Albert Conicella MD
University of Massachusetts Emergency Medicine
University of Massachusetts Toxicology Fellow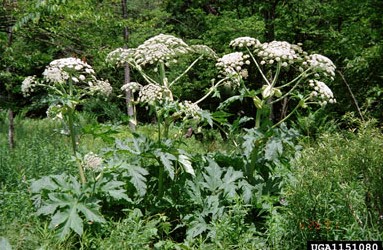 A 28 year old male who presented to the emergency department with a painful, erythematous, blistering rash over his neck and forearms. Two days prior to presentation in the emergency department he had been hiking through the New England wilderness. He noticed the rash the next morning. The pain gradually increased and blistering began the day of presentation. He denied taking any medications or supplements.
This patient was exposed to Giant Hogweed, or Heracleum mantegazzianum. The sap of these plants contain furanocoumarins, which work as a photosensitizing agent by forming DNA crosslinks, rendering the tissue vulnerable to UV radiation. The painful rash and blistering, with tense bullae, typically peak between 48-72 hours post exposure. The treatment is standard sun burn management. The patient will then experience increased skin pigmentation over the distribution of the injury for several months following the initial insult.
References
Nelson, L. S., & Goldfrank, L. R. (2015). Chapter 121: Plants. In Goldfrank's Toxicologic Emergencies (10th ed.). McGraw-Hill Education.
Mechanism-based inhibition of human cytochrome P450-3A activity by grapefruit hybrids having low furanocoumarin content. Greenblatt DJ, Zhao Y, Hanley MJ, Chen C, Harmatz JS, Cancalon PF, Gmitter FG Jr. Xenobiotica. 2012 Dec;42(12):1163-9. doi: 10.3109/00498254.2012.700428. Epub 2012 Jul 18.
Phytophotodermatitis induced by wild parsnip. Walling AL, Walling HW. Dermatol Online J. 2018 Feb 15;24(2). pii: 13030/qt0rc4v2qz.
Phytophotodermatitis: an occupational and recreational skin disease. Moreira AI, Leite I, Guedes R, Baptista A, Ferreira EO. Rev Assoc Med Bras (1992). 2010 May-Jun;56(3):269-70. No abstract available.