By Kenn R. Ghaffarian DO & Kevin J. Flanagan, DO
A 62-year-old male presents for evaluation of fever and productive cough. His medical history includes coronary artery disease, diastolic heart failure and hypertension. He is tachycardic, tachypneic, with a blood pressure of 82/40 mmHg. Chest x-ray confirms multifocal pneumonia.
The emergency department physician began broad spectrum antibiotics and IV fluid resuscitation. Blood pressure responded only transiently to 1.5 liters of crystalloid. At this point, the physician was confronted with a not uncommon decision: more fluids or start pressors?
Excessive fluid resuscitation can lead to an unwanted and potentially detrimental outcome during the resuscitation of hypotensive patients. Invasive monitoring, such as central venous pressures or arterial waveforms, have been historically used in the ICU to assess volume status. However, non-invasive techniques, such as POCUS provide an alternative tool to guided resuscitation. POCUS offers potential ways to evaluate a patient's intravascular volume and cardiac output, from the IVC distensibility index to left ventricular outflow tract velocity time integral (VTI).
More recently, evaluation of carotid artery parameters has been shown to be both reproducible and a time effective examination with significant correlation to invasive monitoring. Stolz et al. demonstrated a mean examination time of 2.9 minutes amongst first-time resident providers with limited video instruction.1 Carotid VTi has been shown as an effective method of identification of "volume responsive" patients with passive leg raise testing.2 Ma et al. demonstrated that carotid blood flow (CBF) correlated moderately well with invasive cardiac output measurements.3
When measuring these indices, the following protocol described originally by Marik et al. in conjunction with ACR practice parameters for extracranial cerebrovascular ultrasound,4 are perhaps most widely utilized:
In short axis orientation, find the maximal diameter of the common carotid artery (CCA)
Rotate probe 90 degrees and measure the CCA diameter (Image 1)

Mark the position of the transducer (Image 2)
Luminal diameter is measured perpendicular to the vascular long axis, from intimal to intimal edge (Image 3)
Intraobserver variability is reduced by obtaining three separate images

Angle corrected spectral doppler tracings are recorded in the long axis

Set a 0.5 mm gate centered within the CCA lumen, 2-3 cm below a visualized bifurcation (Image 4)
Angle correction cursors should be oriented parallel to carotid flow
Insonation angles should be maintained at 45-60 degrees
Measure the carotid VTi from the spectral tracing (Image 5)

The above CCA diameter and spectral doppler tracings are then repeated after a 30-45 degree passing leg raise for 1-2 minutes (Image 6)
Carotid blood flows, pre- and post-passive leg raise, are then calculated using the following formula: Carotid blood flow = x (CCA)2/4 x VTi x heart rate
An increase in CBF 20% with PLR identifies fluid responsiveness, with a reported sensitivity and specificity of 94% and 86% respectively.2
The emergency provider found an increase in carotid blood flow of 30% with passive leg raise. The decision was made to give another 500 mL bolus of IV crystalloid which resulted in improvement in the patient's blood pressure and he was subsequently admitted to the ICU.
More research is certainly needed, but the argument for early adoption of this simple evaluation, in conjunction with other clinical parameters, can certainly be made. Evaluation of carotid blood flow with passive leg raise during resuscitation of the critically-ill hypotensive patient may help guide further resuscitation when deciding between additional crystalloid or the addition of vasopressor agents.
References
1. Stolz LA, Mosier JM, Gross AM, et al. Can emergency physicians perform common carotid Doppler flow measurements to assess volume responsiveness? West J Emerg Med. 2015;16(2):255-9.
2. Marik PE, Levitov A, Young A, et al. The use of bioreactance and carotid doppler to determine volume responsiveness and blood flow redistribution following passive leg raising in hemodynamically unstable patients. Chest. 2013;143:364–70.
3. Ma IWY, Caplin JD, Azad A, et al. Correlation of carotid blood flow and corrected carotid flow time with invasive cardiac output measurements. Crit Ultrasound J. 2017;9(1):10.
4. American College of Radiology (2016) ACR-AIUM-SRU practice parameter for the performance of an ultrasound examination of the extracranial cerebrovascular system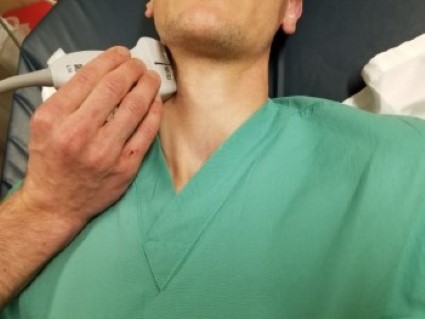 Image 1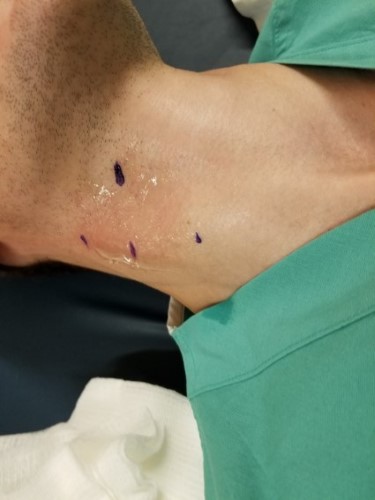 Image 2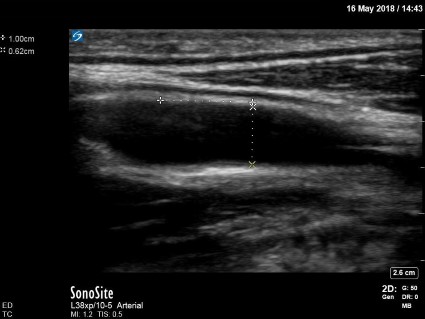 Image 3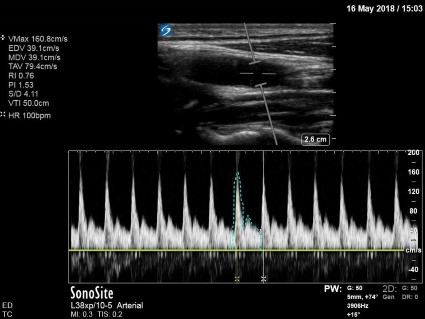 Image 4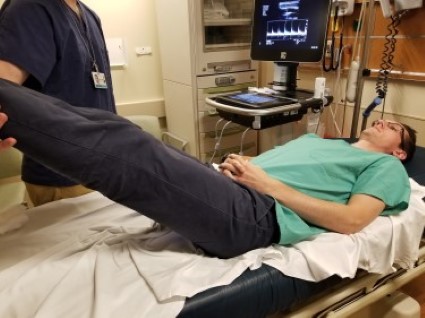 Image 5