By Drew Jones MD, Laleh Gharahbaghian MD & Viveta Lobo MD
Until recently, right heart function and its role in many disease processes was under-appreciated. Even now, as we recognize the importance of increased right ventricular (RV) afterload in pulmonary embolism and chronic pulmonary hypertension, decreased RV preload in tamponade and shock states, and/or decrease contractility in RV infarction, rapid evaluation of the right heart at the bedside remains elusive. Cardiac MRI as become the gold standard of cardiology in assessing right heart function but is impractical in the unstable patient commonly seen in the Emergency Department. Surrogate markers of RV function such as Tricuspid Annular Plane Systolic Excursion (TAPSE) and Systolic Excursion Velocity (S') show promise as a rapid and easily performed augmentation of the bedside echocardiogram. Both have limitations, namely, both evaluate the RV function in a single plane and are therefore specific but not sensitive for RV dysfunction. When used with markers of right heart dilatation, increased pressure, and RV hypertrophy, surrogate RV function markers aid in diagnosis, risk stratification, and management of the acutely dyspneic patient.1-3
One of the immediate life threats that the emergency physician must consider in the acutely dyspneic patient is pulmonary embolism (PE). PE remains one of the most common etiologies of cardiopulmonary dysfunction and death with an annual incidence of approximately 1:1000 and mortality approaching 15% in the US population, respectfully.4-5 Further, it remains an elusive diagnosis with a significant number of clinically relevant but unsuspected pulmonary emboli found on post-mortem autopsy.6 The degree of systemic hemodynamic compromise correlates to increased morbidity and mortality in patients with acute pulmonary embolism. This holds true with normotensive patients as well with acute right heart dysfunction conferring a two-tenfold increase in short term mortality.7 Bedside echocardiogram performed by emergency physicians can augment the physical exam, EKG, and biomarkers to rapidly identify these patients, guide management decisions, and ultimate disposition.
Tips for evaluation of the right heart:
1. Probe: phased array
2. Utilize the traditional 4 limited echocardiogram views: parasternal long axis (PSLA) parasternal short axis (PSSA), apical 4 chamber (A4C), sub-xiphoid
3. Parasternal short axis: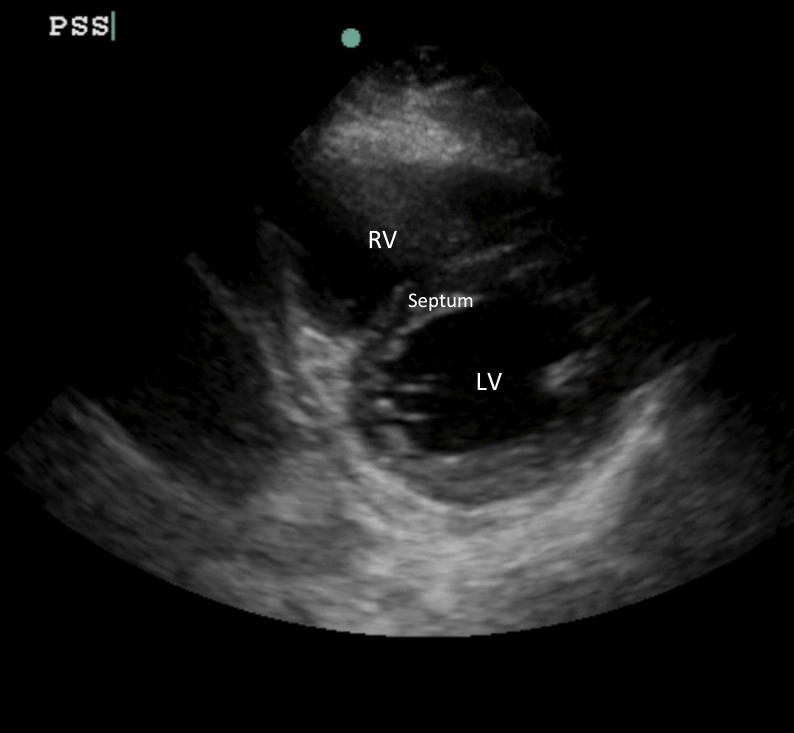 Image 1: Normal crescent shaped RV and concentric LV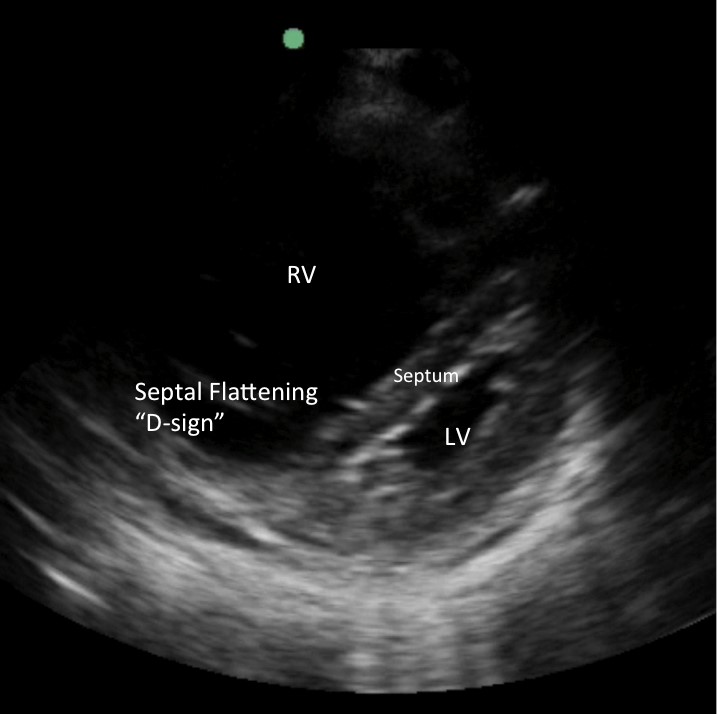 Image 2: RHS showing rounded, dilated RV and flattening of the interventricular septum during diastole ("D-sign" caused by increased RV pressure)
4. Apical 4 chamber: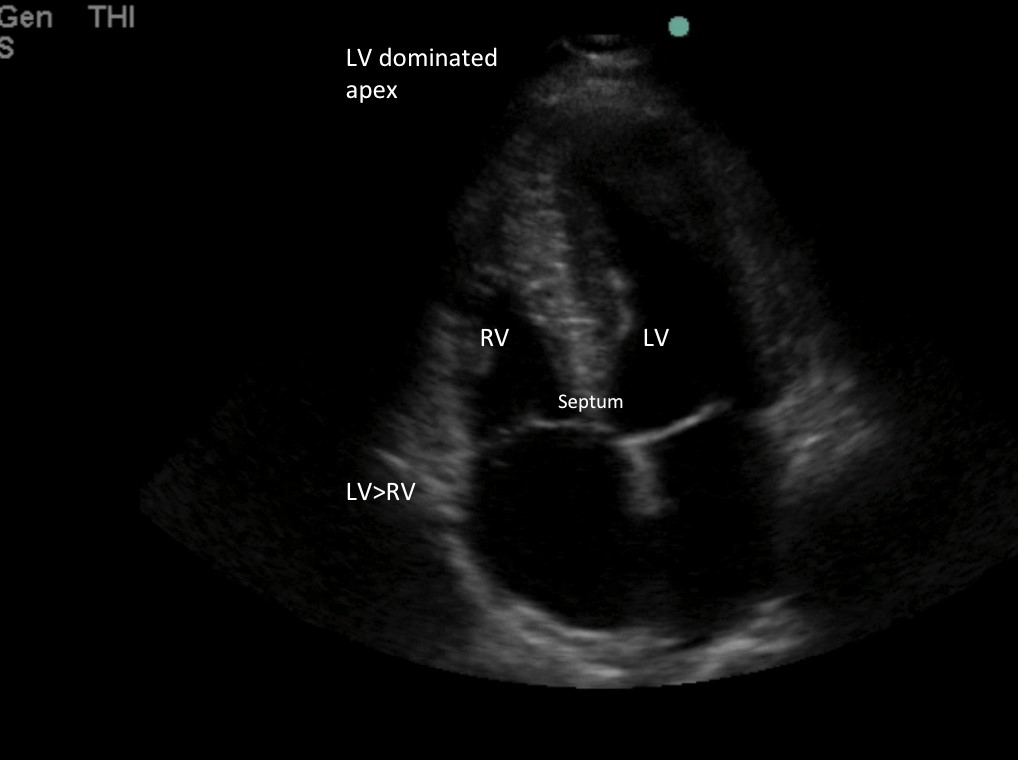 Image 3: Normal RV size less than ⅔ of LV size and apex dominated by LV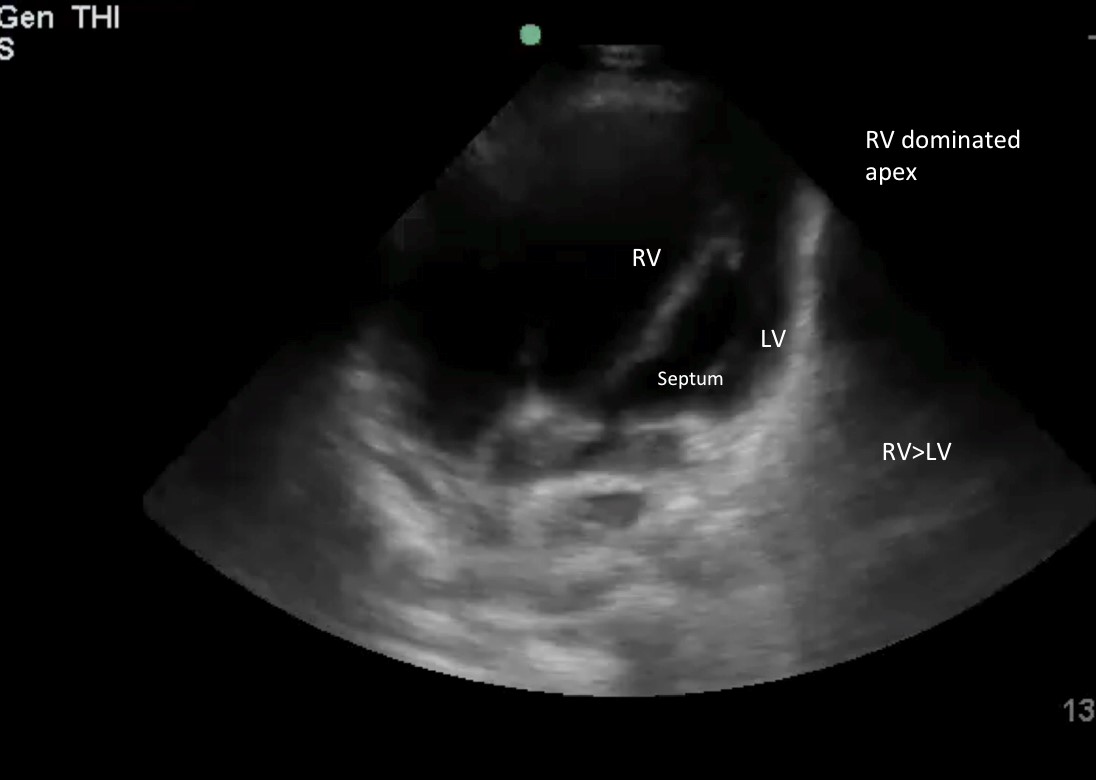 Image 4: RV size > ⅔ of LV size and apex dominated by RV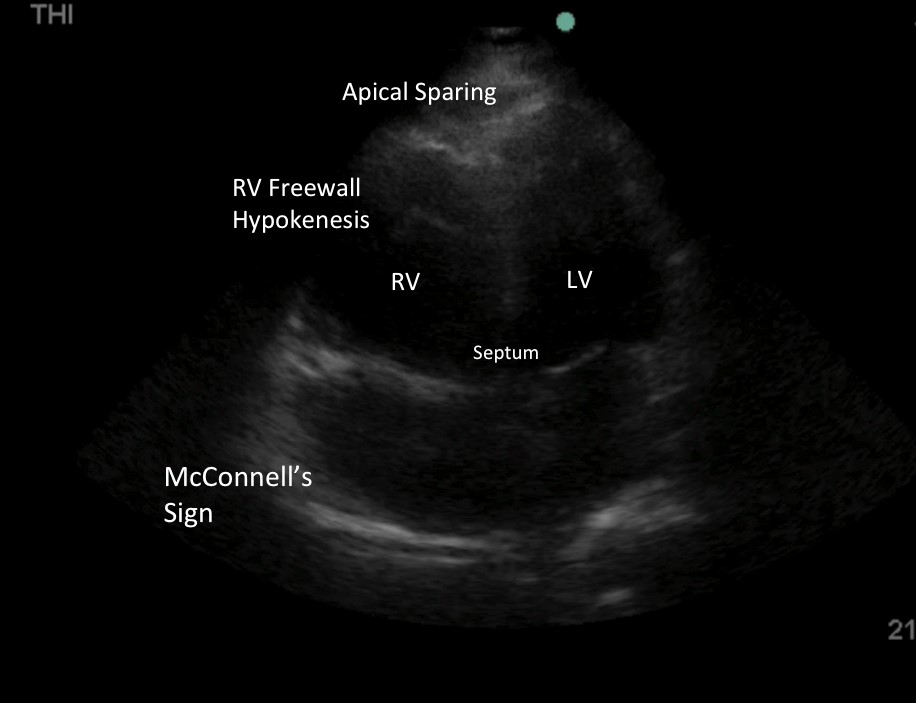 Image 5: McConnell's Sign: RV free wall hypo-kinesis with preserved apical squeeze. Original data suggested that McConnell's sign was a specific indicator of acute PE as opposed to the more uniform hypo-kinesis expected in chronic primary or secondary pulmonary hypertension (PHTN). Recent data refutes this conclusion as McConnell's sign is seen in PHTN.8-9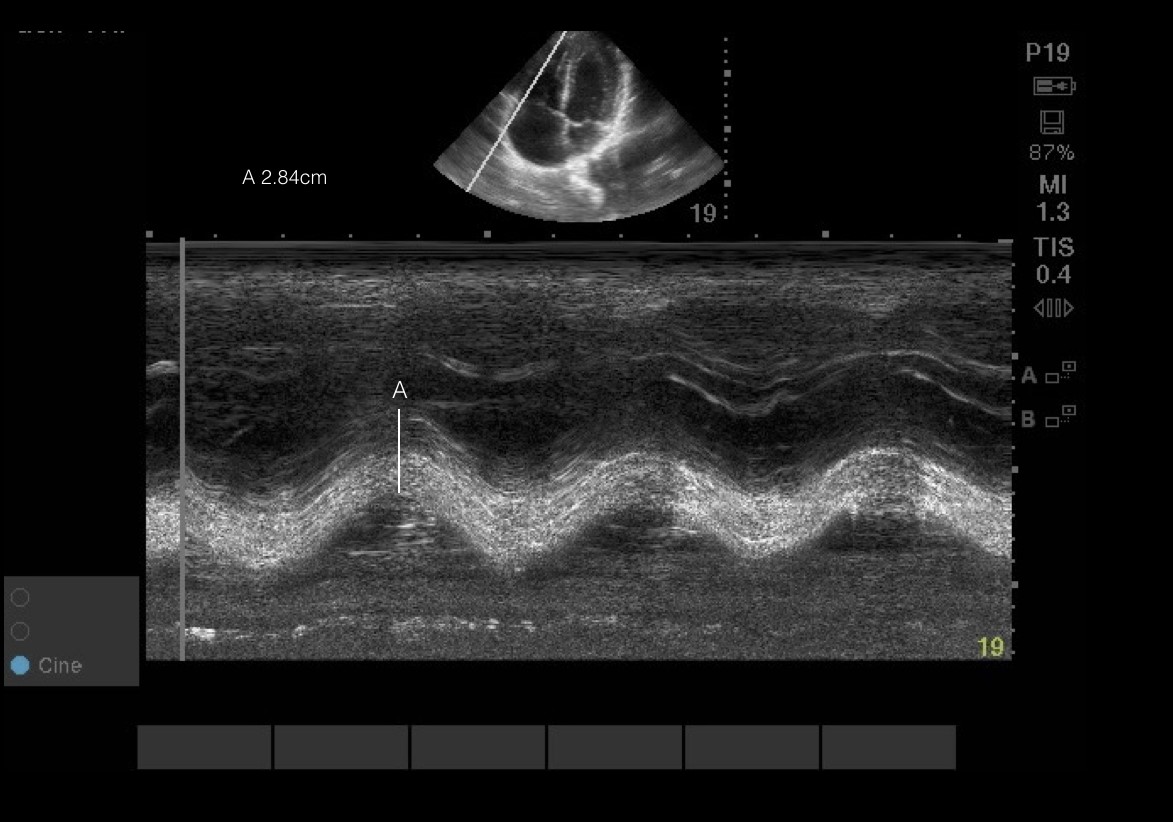 Images 6, 7 & Video 1 TAPSE: The RV contracts primarily in the longitudinal plane from apex to base. Therefore, evaluating the lateral free movement towards and away from the probe (TAPSE) and the strength of this contraction (S') allows them to act as surrogate markers of RV systolic function. To perform, place M-mode cursor through the lateral free wall at the level of the tricuspid annulus to obtain a sin wave. Measure from peak to valley or maximum systolic and diastolic excursion. Abnormal TAPSE<16mm. For S': place pulse wave doppler over the lateral free wall just distal to lateral annulus. Measure the maximum velocity above the baseline. Abnormal S' < 9.5cm/s
Pitfalls: TAPSE and S' are angle dependent. Therefore, their ability to assess RV function degrades significantly on poor quality A4C views. In addition, these surrogate markers only evaluate the RV in one plane; patients can have significant RV dysfunction with normal TAPSE/S'. Despite these limitations, TAPSE/S' correlate with morbidity in the RV failure of patients with pulmonary HTN.
5. Sub-xiphoid (no images)
Measurement of the lateral free wall in the foreground can give some sense of chronicity of disease. Normal <5mm, Greater than 5mm indicative of chronic RHS.
Pitfall: patients with chronic heart failure can acutely decompensate. Therefore, the free wall measurement is best used as "rule out chronic RHS" if <5mm than "rule in" tool.
Conclusion
Taken in its totality: evaluation of right ventricular dilation, abnormal septal movement, hypokinesis of the right ventricular free wall, and surrogate markers of RV systolic function allows the emergency physician to rapidly assess right heart function and initiate life-saving therapy.
References
1. Ryan JJ, Tedford RJ. Diagnosing and treating the failing right heart. Curr Opin Cardiol. 2015;30(3):292-300.
2. Soni NJ, Arntfield R, Kory P. Point of Care Ultrasound E-book. Elsevier Health Sciences, 2014, 110-118.
3. Kossaify A. Echocardiographic assessment of the right ventricle, from the conventional approach to speckle tracking and three-dimensional imaging, and insights into the "Right Way" to explore the forgotten chamber. Clin Med Insights Cardiol. 2015;9:65-75.
4. Silverstein MD, Heit JA, Mohr DN, et al. Trends in the incidence of deep vein thrombosis and pulmonary embolism: a 25-year population-based study. Arch Intern Med. 1998; 158: 585-93.
5. Horlander KT, Mannino DM, Leeper KV. Pulmonary embolism mortality in the United States, 1979-1998. An analysis using multiple-cause mortality data. Arch Intern Med. 2003;163(14):1711-1717. doi:10.1001/archinte.163.14.1711
6. Stein PD, Henry JW. Prevalence of acute pulmonary embolism among patients in a general hospital at autopsy. Chest. 1995; 108: 978-81.
7. Matthews JC, McLaughlin V. Acute right ventricular failure in the setting of acute pulmonary embolism or chronic pulmonary hypertension: A detailed review of the pathophysiology, diagnosis, and management. Curr Cardiol Reviews. 2008, 4, 49-59.
8. Mediratta A, Addetia K, Medvedofsky D, et al. Echocardiographic diagnosis of acute pulmonary embolism in patients with McConnell's Sign. Echocardiography. 2016;33(5):696-702. doi:10.1111/echo.13142.
9. Walsh BM, Moore CL. McConnell's Sign is not specific for pulmonary embolism: Case report and review of the literature. J Emerg Med. 2015;49(3):301-304.
10. Daley J, Grotberg J, Pare J, et al. Emergency physician performed tricuspid annular plane systolic excursion in the evaluation of suspected pulmonary embolism. Am J Emerg Med. 2017;35:106–111.