By Nat Kittisarapong, DO
Hi everyone, welcome back to another edition of ACEP's EUS Tech Updates! This month covers the ever-portable Philips Lumify which utilizes 3 small lightweight probes that attach to the Samsung Galaxy tablet and the completely wireless Healcerion Sonon 300L/300C which utilizes two lithium battery operated probes that communicate wirelessly with an Apple iPad or Samsung Galaxy.
For their size and portability both units can definitely benefit physicians who work in rural/rugged areas, small spaces, or have limited funding. Avid advanced sonographers will see a difference in the image quality between these portable units when compared to larger point-of-care units. However, for the purpose of diagnosing common important critical conditions such as cardiac standstill in arrest, RV strain in the setting of a pulmonary embolism, pneumothorax or free fluid in the abdomen in the setting of trauma, these units are definitely competitive in different ways.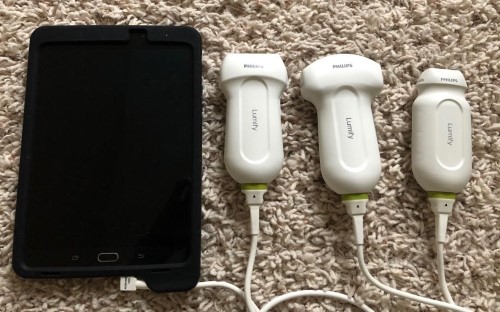 Philips Lumify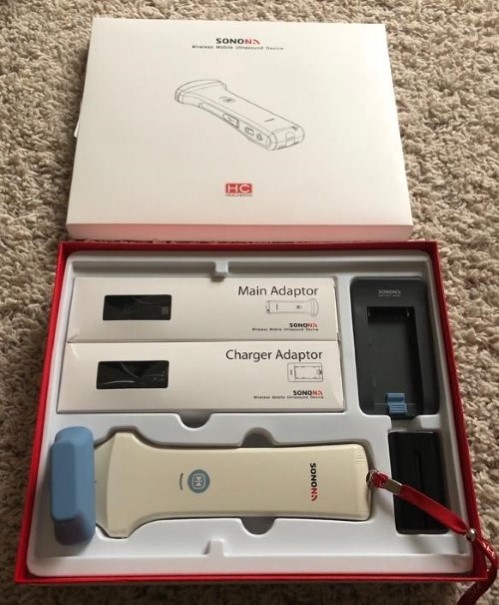 Healcerion Sonon 300L/300C
There are 3 Lumify probes that easily plug into the Galaxy tablet, the C5-2 Curvilinear (2-5 MHz), the L12-4 Linear(4-12 MHz), and the S4-1 Phased Array (1-4 MHz) probe, each priced at $8000 with a 5-year warranty, an option to finance, and to get an extended warranty that covers lost, stolen, or damaged probes. Philips also offers a per month rental for those who would like no long-term commitment or those who can't afford to fully buy each probe for $199 per month per probe with similar support offerings. The Lumify exports to DICOM PACS, a network share, or to a local repository and images can easily be emailed. There is also a new program that began recently, offered by Philips called REACTS (Remote Education, Augmented Communication, Training and Supervision) that utilizes telecommunication and augmented reality to provide users with consultation and guidance when using their probes.
The wireless Healcerion Sonon 300L (linear probe 5-10 MHz) priced at $8000 and the 300C (curvilinear probe, 3.5 MHz) priced at $6000, each weigh less than a pound including the battery (13-13.5 ounces), measure nearly 12 inches long, and allows you to scan without the nuisance of wires. The unit offers easy to replace, rechargeable lithium batteries which give the unit its weight. However, unlike the Lumify, Healcerion is currently developing a phased array probe and can not therefore do cardiac imaging like the Lumify can. Similar to the Philips, however it can export to DICOM PACS, network share, or local repository, and images can also be emailed.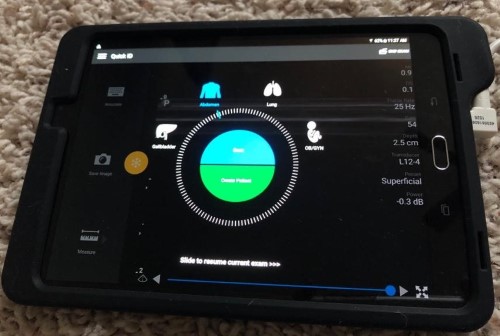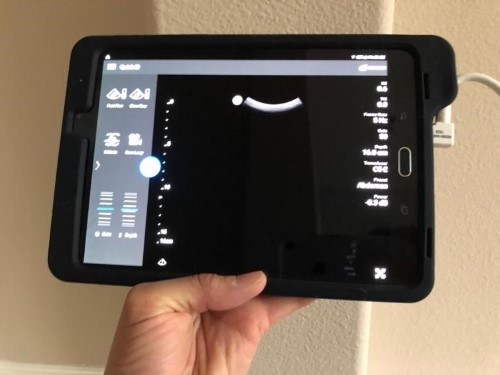 The Philips Lumify has an easy-to-use interface with a wheel that easily navigates between each mode. Because it's plugged into the tablet via USB cable, each probe uses the tablet's battery and has at least double the scan time of the Healcerion probes. The Healcerion probes scan time is limited to 10 minutes with 10 minute rest periods in between to prevent the units from overheating.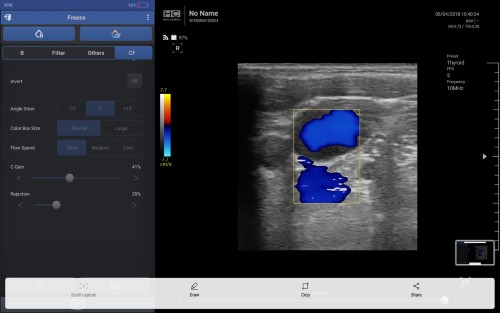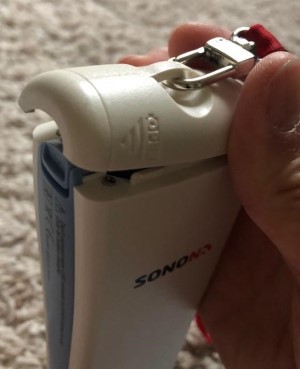 The wireless Healcerion probes are capable of 2.5 to 3 hours of scan time, in increments of 10 minutes each with ideally 10 minutes of rest in between each scan as the inner fan may turn on to cool the unit if scanning lasts longer, and the overall stand-by time without use is 10-12 hours. Batteries charge in 3 hours in a provided charger and each probe comes with two batteries. The 300L scans from 1-10 cm in depth while the 300C scans from 5-20 cm in depth. Like all ultrasound probes, these wireless probes use piezoelectric crystals and dropping them on the scanning surface can damage the crystals. The probes were therefore designed with rubber covers to help mitigate this possible damage.
Overall, in a head-to-head comparison, both units are light and the apps that are required are free, can be easily downloaded to your tablet, and are both easy to use however Lumify only works with the Android system, while Healcerion can work with both Apple iPads and Samsung tablets. The weight and feel of the Lumify probes is similar to that of the larger machines from competitors such as Sonosite, while the Healcerion probes are much larger with different weight distribution due to the lithium batteries and can take some getting used to for some sonographers.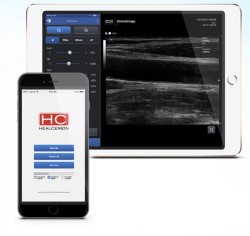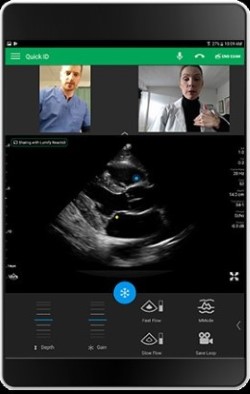 Lumify has better overall, more crisp images in comparison to Healcerion for abdominal, musculoskeletal, vascular views. Both units have the capability to adjust for color flow, gain, frequency, depth, dynamic range, freezing and getting video clips, as well as to interchange between M/B/Doppler modes with the touch of a finger.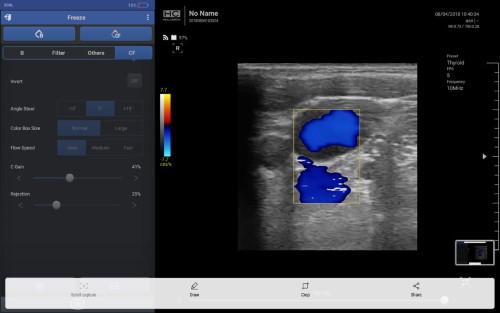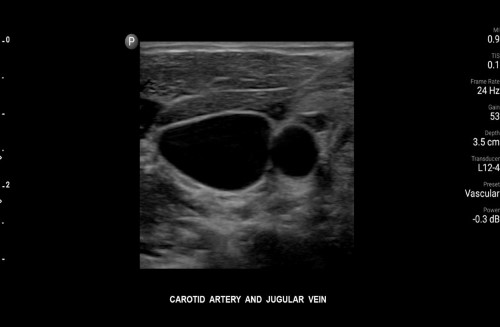 For those of you who do not like touch screen (fingers that are slightly covered with ultrasound gel do not do well on touchscreen surfaces), these are definitely not the units for you. The Lumify has more versatility that Healcerion as it has a third probe, the S1-4 phase array probe, which make it useful for smaller framed individuals or in critical care settings that require better cardiac views.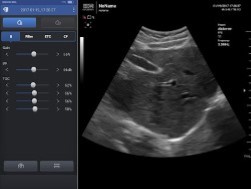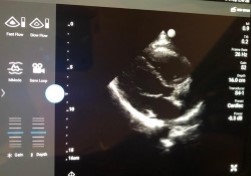 From my personal experience, both company's probes provide good images for IV/CVC line access although as they are both mobile, they both need something to mount/prop up the tablet while the line is being done.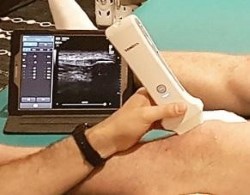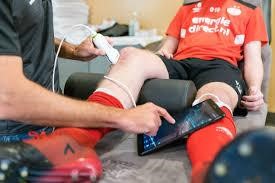 Both companies provide exceptional customer service. Lumify comes with a carrying case which fits both probes and tablet while Healcerion despite being packaged nicely can benefit from providing a similar carrying case to prevent loss.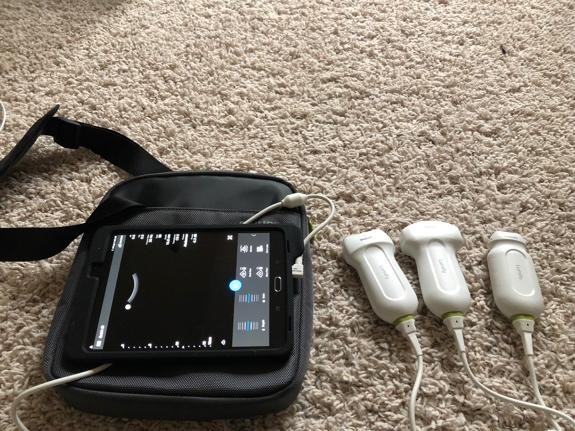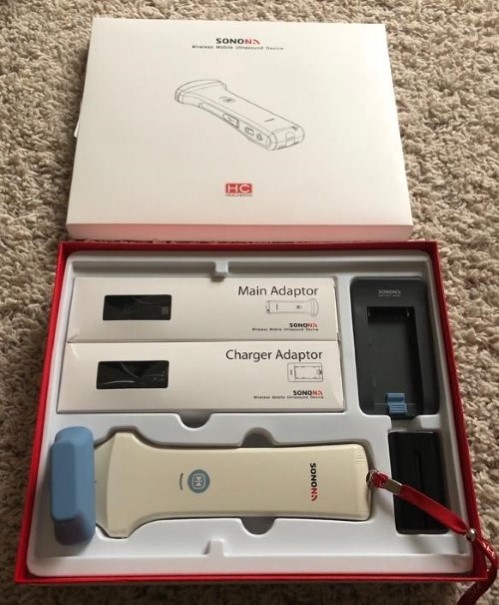 And last, because of its wireless capabilities the Healcerion scan time is less than Lumify's.