Tech Update: Handheld Ultrasound Probes
By Natwalee Kittisarapong, DO
In the last few years, the ultrasound industry has seen a rapid progression of innovation from the development of smaller, more portable touch screen units to smart phone technology. Paving the way was Mobisant's MobiUS. The more recent arrivals include, the Phillips Lumify, Clarius, Butterfly IQ, BiiM, and Sonon HEALCERION. This month, we discuss the Butterfly Network's Butterfly IQ. The Butterfly IQ is an Apple IOS-based ultrasound unit with Cloud and AI capabilities which recently debuted at ACEP 2017 creating a new hype coined the "Butterfly Effect."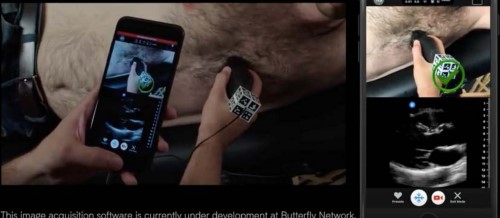 Unlike its peers, this Apple based ultrasound unit was recently cleared by the FDA for 13 applications and boasts the capability of a single probe, which does the work of the traditional three transducers. This eliminates the need to purchase, maintain, and physically switch between probes. Butterfly IQ does this by employing semiconductor fabrication chip technology similar to that seen in today's computers and smartphones. It utilizes capacitive micromachined ultrasound transducers (CMUT) which consists of rows of tiny drums that vibrate at a wider range of frequencies than the traditional piezoelectric crystals. The generated sound waves from the CMUT hit the body, reverberate back and are recognized as electrical signals which are processed into an image by the layer of complementary metal oxide semiconductors (CMO) to which the CMUT's are bound.
Large discs of CMUT/CMO wafers are fabricated initially which generate multiple chips decreasing the overall cost of the IQ. In fact, the starting price will be about $2,000. Compare that to its peers. The Phillips Lumify costs nearly $7,200 for subscription use of its three probes (curvilinear, linear and phase array), while the Clarius is approaching $10,000.
Despite all the excitement, the Butterfly IQ has its limitations, including a small screen for visualization, no endo-cavitary ultrasound, and lesser image quality. Furthermore, will Butterfly be able to protect against breach of privacy and security of patient information in lieu of its cloud-based storage? Only the future will tell… what an exciting time to be a sonophile!