By Detective Specialist Dennis Canale, P.A.
Active Shooter incidences continue to be a major cause of disasters in the United States. According to data from the Federal Bureau of Investigation (FBI), 20 active shooter incidences occurred in 2016 and this number increased to 30 in 2017. These shootings resulted in 943 casualties consisting of 221 deaths and 722 people wounded. These numbers suggest that emergency providers must be prepared to respond to these incidents.
PREPARING FOR THE ACTIVE SHOOTER DISASTER
The role of providing medical education to first responders and civilians is an essential component in preparing for active shooter or mass casualty incidents. Current programs such as "Stop the Bleed", Bleeding Control for the Injured, and the National Association of Emergency Medical Technicians (NAEMT) Tactical Emergency Casualty Care (TECC) course should be implemented, encouraged, and promoted nationwide by who better than emergency medicine physicians. Stop the Bleed is a nationwide campaign launched in October of 2015 by the White House in collaboration with multiple government and non-government agencies to educate people how to address life threatening bleeding. Much like bystander CPR, it empowers the public to initiate lifesaving bleeding control measures for individuals with life-threatening hemorrhage. The NAEMT course delivers education to a variety of individuals such as lay rescuers, firefighters, law enforcement personnel, and security personnel, who may need to administer initial basic interventions or "buddy care" until additional help arrives. Emergency providers are aware that severe blood loss can cause death within minutes if left untreated. In a multi-casualty event such as an active shooter incident, even the swiftest emergency response is not likely to prevent death from exsanguination in the presence of critical blood loss. Therefore, critical interventions taught during these courses have the potential to save lives caused by penetrating trauma from firearms. The Tactical Emergency Casualty Care course teaches skills necessary to administer care critical to improving casualty outcomes for victims during a civilian tactical response event. Decades ago, emergency medical professionals successfully spearheaded efforts to educate citizens in CPR, preventing numerous deaths from heart attacks, strokes, and choking. Similarly, instructing citizens and non-medical first responders how to perform simple hemorrhage control measures has the potential to improve survival for shooting victims. Recent active shooter experiences should remind us of the need to meet our current education challenges in response to the growing number of active shooter incidences.
Although the specific role of an emergency medicine physician during these tragic events depends upon local 9-1-1 structure, first response systems, and incident severity, certain advanced system models such as the New York City (NYC) emergency medical system can yield valuable lessons that can shape local protocols. For instance, the Fire Department of the City of New York (FDNY) has a multi-layer medical response. This includes the newly established rescue task force composed of emergency medical service (EMS) personnel, accompanied by heavily armed escorts from the New York City Police Department (NYPD) Strategic Response Group. Aside from initial medical first responders (e.g., EMTs, paramedics, rescue medics), the FDNY has on-call physicians to respond and provide on scene medical control. In addition to the traditional medical system, New York City and many other large cities have incorporated specially trained Special Weapons and Tactics (SWAT) paramedics, who serve the law enforcement community as tactical medics. The New York Police Department Emergency Service Unit (NYPD ESU) employs the largest SWAT team nationwide and worldwide, with over 350 active SWAT personnel, and a medical support team of 12 tactical medics, 1 physician assistant, and 1 emergency medicine physician. Although most regions will not have the availability of all these resources, becoming proactive in learning about various response methods and techniques is likely to produce a more efficient reaction to these events. In addition, the emergency physician should be proactive in their community to help define medical response roles, medical support structure for teams, and medical assets that can be deployed in response to an active shooter.
Response to these events must be preplanned and well-coordinated. Communication failure or breakdown should be anticipated and prevented if possible. For example, with regard to the 9/11 terrorist attacks in NYC all cellular transmission in the area failed. The only communication available were portable on scene radios, which only allowed communication within each agency. Since that time, emergency inter-agency communication plans have been bolstered, as joint communication between all assets is paramount for success.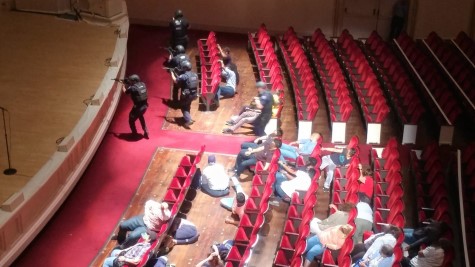 Carnegie Hall, New York City, July, 2018, Active Shooter Drill
RESPONDING TO THE ACTIVE SHOOTER DISASTER
Arrival to the scene is urgent but safety is imperative. Impedance of law enforcement response is extremely dangerous. Most law enforcement teams have large armored vehicles and specialized equipment which can be cumbersome in narrow pathways, streets, and access points, especially when multiple non-law enforcement vehicles are present. Some agencies even have preplanned arrival patterns; however, it is important that all personnel involved in the response be knowledgeable about them. Traffic congestion at approaching streets and hospital routes can result in delays and lengthy patient transport times even if the facility is close. Contingency preplanning may mitigate this situation.
Providing integrated care during active shooter events, requires an appreciation of how a scene generally unfolds. This understanding can demystify the concern of why medical support cannot be implemented immediately and without delay. To comprehend this concept of why, it is helpful to understand the threat-based zones relative to these events. Similar to Chemical, Biological, Radiological, and high yield Explosives (CBRNE) incidents, the zones are divided into three categories based upon level of hazard present.
Hot Zone/Direct Threat Zone - The area where there is active gunfire or an active risk of danger to life exists.
Warm Zone/Indirect Threat Zone - An area where there was active gunfire and the threat can reoccur or an area secured by enough law enforcement personnel to provide a safe corridor from the risk of danger to life. This zone is unpredictable and can revert to a hot zone at any point.
Cold Zone/No Threat Zone - An area where the threat, or any possibility of threat is not existent, and the area is secured by an overwhelming law enforcement presence.
The main purpose of the primary response to a scene is the rapid interjection of law enforcement first responders and tactical teams to suppress the active threat where it exists. There must be an understanding that without immediate threat mitigation, the casualty rate will exponentially increase. The tactical goal is the immediate resolution of the threat which eliminates an increased number of casualties, and potentially gives the previously injured persons the best chance of survival. Tactically trained officers are taught not only to bypass injured civilians, but in fact, they must bypass their own team members injured from gunfire to pursue the active shooter and suppress the threat to promote this goal.
The first line of care in what is deemed the Hot Zone or the area most vulnerable to active danger (e.g., gunfire, explosions, deadly physical force) is the most limited area of treatment. Most treatment in this zone is given by law enforcement first responders, tactical teams, and tactical medics, hence the critical importance of "Stop the Bleed", and tourniquet awareness. Medical care here is limited to verbal first aid, casualty direction, self-aid, and buddy aid; all of which can be abruptly stopped if active threats are perceived. Unfortunately, there is no opportunity for extended care in this zone as the danger outweighs the benefit of care and the best option in this environment is a medically educated law enforcement team.
The second line of care occurs in the Warm Zone, where the immediate threat has been suppressed and the ability to provide some concentrated medical care can be initiated. Here is where the tactical medics can operate without concern of a direct threat against them and where tactical support teams can introduce properly trained medical personnel with proper tactical awareness. A concern in this zone is the possibility that the Warm Zone can immediately revert to a Hot Zone. This can happen if a hidden threat presents, if a believed casualty is another threat, or if the initial threat returns. The medical response from the EMS system is tremendously important here. Since most active shooter events unfold in several minutes and end just as fast, the goal to provide rapid treatment is a necessity at this stage to preserve life. Here medical teams have the potential to enter with law enforcement escorts. These medical teams must possess proper training and awareness of tactical movement, safety, and reaction.
The final line of care occurs in the Cold Zone. This area is separated far enough from the active location to provide adequate safety from anticipated danger. This distance can vary widely and may be as little as fifty yards or as far as a mile dependent upon the situation. This zone is open to medical personnel who do not possess specific training or awareness of tactical operations. In the Cold Zone, larger triage platforms can be set up, field operations can be implemented, and transport modalities may be utilized.
Each active shooter response is unique and truly dependent upon the individual situation and locality. Some rural regions of the United States may not have enough resources to sustain proper field care for prolonged periods or for mass casualty events. Thus, the role of the emergency medicine physician may vary tremendously, as many resources will be needed in these areas. As a tactical physician assistant, who has been in law enforcement for 20 years, with 14 years of experience with the NYPD ESU Tactical Team, I have seen where the early implementation of basic medicine can save lives and also where my tactical knowledge must be utilized ahead of my medical care. Through my experiences gained from such tragic events as the 2001 9/11 disaster, multiple active shooter events in NYC, and terrorist events, I have found that it is imperative for all physicians who partake in efforts to assist in these events have some orientation or awareness to the tactical operations that may be ongoing.
Aside from education and awareness, there may be a genuine role for the emergency medicine physician who wishes to extend themselves into the field. As a first response provider, I see the largest need for the emergency medicine physician in the cold zone. We are all aware that a majority of these disastrous active shooter events result in mass trauma casualties. Though unfortunate, combat casualties from the overseas theaters of war have taught us much about trauma care and evolving interventions. From a medical perspective, the main goal is basic, to identify and stop hemorrhage and preserve life, so the patient can eventually be transported to definitive care. The second most essential element in improving survival of penetrating trauma is early transfusion for significant volume depletion. Evolving literature directs rapid blood transfusion as critical for survival from hemorrhagic events. Many medical agencies are currently considering field blood transfusions, however multiple transfusions for multiple casualties may not be an obtainable goal for a large majority of EMS agencies. With proper preplanning at the triage/Cold Zone area, emergency medicine physicians can assist with critical cases and possibly initiate rapid field treatment to promote survival. Important procedures such as needle decompression, chest tube insertion, central venous access, intraosseous access, placement of a definitive airway, emergency cricothyroidotomy, and rapid blood transfusions can be implemented in the field.
Emergency physicians along with their supporting institution can set up "field hospitals" to treat life-threatening trauma as described above and as well minor injuries. With the Las Vegas shooting, many emergency departments were rapidly overwhelmed with critically injured trauma victims and family members. Lower acuity patients including the "walking wounded", the emotionally distressed, and patient's family members added to emergency department's congestion. Most of these minor medical problems can be examined, treated, and counselled in a controlled Cold Zone, to alleviate mass effect at the hospitals. Treating and discharging these patients directly from the field and arranging next day follow up at a predetermined clinic would alleviate the burden on multiple emergency departments. Obviously, on duty emergency medicine physicians cannot simply abandon their primary emergency department responsibilities, so the "field" role may fall on the shoulders of off-duty, or on-call physicians. Planning is crucial for this to unfold in a well-orchestrated manner.
OTHER CONSIDERATIONS
Even in the most developed cities in the United States, pediatric critical care capacity is a concern especially in the situation of a school shooting or gathering of children. An evaluation of the New York City region reveals a limited number of pediatric intensive care beds. On scene emergency medicine physicians may be a consideration in an event requiring mass pediatric medical resources, to stabilize and prepare for long distance transports.
Even an unconventional response with mobile health vans potentially could provide dual fold resources. Not only can they bring supplies such as blood, intravenous fluids, bandages etc. to the scene. On board physicians could also direct and command these vehicles providing a higher level of on-site medical care.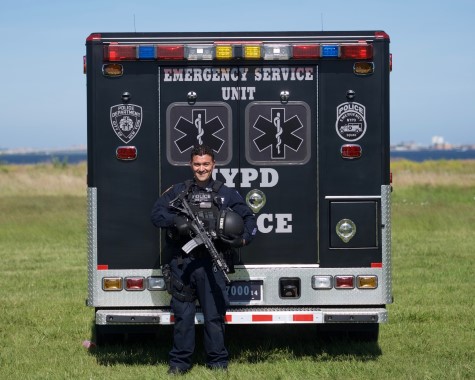 About the Author:
Detective Specialist Dennis Canale, P.A.
20 years NYPD law enforcement
14 years NYPD ESU (Tactical Swat/Rescue Team)
Return to Newsletter
9/11 First Responder
Active Shooter Responder
NAEMT Affiliate Faculty
NYPD ESU Medical Training School Coordinator
NYS Department of Health Instructor Coordinator
Lead Tactical Medic for NYPD ESU
Multiple hostage, barricade, emotionally disturbed persons rescue
Off shore Medevac/Air Rescues