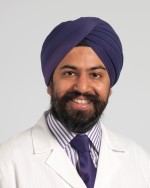 Harman S. Gill, MD
Assistant Professor of Medicine, Sections of Emergency Medicine and Critical Care Medicine
Dartmouth Hitchcock Medical Center
(Disclosure: Dr. Chawla is currently on leave from GWU as the chief medical officer at La Jolla Pharmaceutical Company which is the manufacturer of Giapreza)
Angiotensin II (AT-II) or Giapreza is here! It's FDA approved for increasing blood pressure in adults with septic or distributive shock. Initial experience, thus far, confirms its efficacy in the clinical setting without any major or unexpected adverse effects. Having said that, the use of AT-II in the emergency department (ED) setting thus far has been limited, and the medical literature also has a great paucity of its efficacy and utility in the ED patient population. For this exact reason, I interviewed Dr. Lakhmir Chawla, a pioneer in the research and development of AT-II and share with you the pertinent data that may better inform the potential use of AT-II on your next shift!
What is the physiologic and literature basis behind how AT-II behaves as a vasopressor, and how it is different from conventional vasopressors?
The body leverages three main vasopressor peptides to maintain systemic vascular resistance (SVR): catecholamines, vasopressin, and angiotensin II. For the past 25 years, clinicians were only able to leverage two of these three systems at the bedside. Catecholamines and vasopressin engage alpha/beta receptors and V1 receptors, respectively, while angiotensin II engages the angiotensin II type 1 receptor (ATR1) to increase SVR. Activation of the ATR1 receptor increases smooth vascular tone and is a key step in the renin-angiotensin-aldosterone system (RAAS). The availability of angiotensin II is not new, as the bovine form of angiotensin II was available from the 1960s up until the 1990s and has been demonstrated to rescue patients with catecholamine resistant shock.1 Angiotensin II has been safely administered to over 31,000 patients for a variety of indications.2 GiaprezaTM is a stable form of angiotensin II that is identical to the endogenous human angiotensin II and was approved by the United States Food and Drug Administration (FDA) in December of 2017 to increase blood pressure in adults with septic or other distributive shock. The approval was based on the ATHOS-3 trial, which demonstrated that angiotensin II was capable of increasing blood pressure in vasodilatory shock patients who required high-dose vasopressors.3
Despite multiple large randomized controlled trials, no vasopressor has demonstrated a survival benefit versus another vasopressor.4 As such, all vasopressors are utilized to achieve and/or maintain blood pressure, as opposed to being utilized for achieving a survival benefit. There is a paucity of data that support the superiority of catecholamines as first line vasopressor; nonetheless, initial vasopressor therapy worldwide is almost always a catecholamine due to their low cost and familiarity. Since catecholamines have toxicity, especially at high-doses, there is a need for non-catecholamine vasopressor options.5,6 Currently, there are only two non-catecholamine vasopressor choices available: vasopressin and angiotensin II. Vasopressin is typically prescribed as a fixed dose and approximately 45% of patients in shock have a blood pressure response.7,8 Based on the ATHOS-1 and ATHOS-3 trials, angiotensin II is dosed from 5-40 ng/kg/min and 70-100% of patients have a MAP response to angiotensin II.3
While most people think of angiotensin II as a pure vasoconstrictor similar to phenylephrine, its mechanism of action is more akin to norepinephrine, because angiotensin II has inotropic properties.9,10 Thus, angiotensin II is more of a 'mixed' vasoconstrictor/inotrope.
What are the adverse effects of its use?
The package insert11 identifies thromboembolic events as the main risk factors. In the ATHOS-3 trial, there were more thromboembolic events in the angiotensin II arm versus placebo. Many of these events occurred in patients who were not receiving venous thromboembolism (VTE) prophylaxis, and the label indicates that patients receiving angiotensin II should be receiving VTE prophylaxis.
Other adverse reactions occurring in ≥ 4% of patients treated with Giapreza and ≥1.5% more often than in placebo-treated patients in ATHOS-3 were: thromboembolic events (including deep vein thrombosis), thrombocytopenia, tachycardia, fungal infection, delirium, acidosis, hyperglycemia, and peripheral ischemia.
The main adverse events that clinicians see with all vasopressor drugs such as tachyarrhythmias, mesenteric ischemia, peripheral ischemia, and cardiac events occurred at a similar frequency in both arms of the trial.
When should an EM provider think about using this medication? Any special recommendations on dosage such as bolus + drip v/s continuous non-titratable infusion only?
A post-hoc analysis of the ATHOS-3 data suggest that those patients with severe acute kidney injury (AKI) may gain the most benefit, as that subset of patients enjoyed a statically significant survival benefit and recovered from renal replacement therapy more frequently and more rapidly.12 In addition, angiotensin II appears to be a therapeutic option for ACE inhibitor overdose through its unique mechanism of action.13-16
Another potential consideration for the EM provider is dosing angiotensin II through a peripheral IV. Administration by central line is recommended in the label; however, peripheral IV use is allowed based on clinical judgement. The previous use of angiotensin II published in the literature was largely via peripheral IV.2 Historically, doses of angiotensin II given via a peripheral line were ≤ 10 ng/kg/min (17-19) and prepared as low concentration solutions with frequent blood pressure monitoring (data on file).
For patients with central venous access, the starting dose should be 20 ng/kg/min with frequent blood pressure monitoring. Some patients, likely those with angiotensin II deficiency, are exquisitely sensitive to angiotensin II and have a robust blood pressure response. Angiotensin II should be administered as a constant infusion and should NOT be administered in bolus doses.
What are the next steps and upcoming trials?
There are plans to study angiotensin II in multiple arenas including in the treatment of ACE inhibitor induced angioedema, post-cardiac surgery vasoplegia, and hepato-renal syndrome.
What does the latest Centers for Medicare & Medicaid Services (CMS) New Technology Add-on Payment (NTAP) for GIAPREZA mean for ER's/hospital pharmacies in terms of cost?
NTAP was created to ensure Medicare beneficiaries would have timely access to new, breakthrough technologies by providing a temporary payment mechanism for the use of new technologies, in addition to the DRG payment amount the hospital would otherwise receive. For eligible Medicare patients, CMS will reimburse up to 50% of the estimated cost of the therapy. For Giapreza, the maximum will be $1,500 for FY 2019 (effective October 1, 2018). For CMS patients, the result will be that, for most patients, a course of therapy for Giapreza will likely be less expensive than a course of therapy for vasopressin.
References
1. Ryding J, Heslet L, Hartvig T, et al. Reversal of 'refractory septic shock' by infusion of amrinone and angiotensin II in an anthracycline-treated patient. Chest. 1995 Jan;107(1):201-3.
2. Busse LW, Wang XS, Chalikonda DM, et al. Clinical experience with IV angiotensin II administration: a systematic review of safety. Crit Care Med. 2017 Aug;45(8):1285-94.
3. Khanna A, English SW, Wang XS, et al. Angiotensin II for the treatment of vasodilatory shock. N Engl J Med. 2017 Aug 33;377(5):419-30.
4. Gamper G, Havel C, Arrich J, et al. Vasopressors for hypotensive shock. Cochrane Database Syst Rev. 2016 Feb 15;2:CD003709.
5. Martin C, Medam S, Antonini F, et al. Norepinephrine: not too much, too long. Shock. 2015 Oct;44(4):305-9.
6. Yamamura H, Kawazoe Y, Miyamoto K, et al. Effect of norepinephrine dosage on mortality in patients with septic shock. J Intensive Care. 2018 Feb 26;6:12.
7. Sacha GL, Lam SW, Duggal A, et al. Predictors of response to fixed-dose vasopressin in adult patients with septic shock. Ann Intensive Care. 2018 Mar 6;8(1):35.
8. Russell JA, Walley KR, Singer J, et al. Vasopressin versus norepinephrine infusion in patients with septic shock. N Engl J Med. 2008 Feb 28;358(9):877-87.
9. DeWire SM, Violin JD. Biased ligands for better cardiovascular drugs: dissecting G-protein-coupled receptor pharmacology. Circ Res. 2011;109(2):205-216.
10. Rajagopal K, Whalen EJ, Violin JD, et al. Beta-arrestin2-mediated inotropic effects of the angiotensin II type 1A receptor in isolated cardiac myocytes. Proc Natl Acad Sci USA. 2006 Oct 31;103(44):16284-9.
11. GIAPREZATM (angiotensin II) [Package Insert}. San Diego, CA: La Jolla Pharmaceutical Company. 2017.
12. Tumlin JA, Murugan R, Deane AM, et al. Outcomes in patients with vasodilatory shock and renal replacement therapy treated with intravenous angiotensin II. Crit Care Med. 2018 Aug;46(6):949-57.
13. Desachy A, Normand S, Francois B, et al. Refractory shock after converting enzyme inhibitor administration. Usefulness of angiotensin II. Presse Med. 2000 Apr 8;29(13):696-8.
14. Jackson T, Corke C, Agar J. Enalapril overdose treated with angiotensin infusion. Lancet. 1993 Mar 13;341(8846):703.
15. Newby DE, Lee MR, Gray AJ, et al. Enalapril overdose and the corrective effect of intravenous angiotensin II. Br J Clin Pharmacol. 1995 Jul;40(1):103-4.
16. Trilli LE, Johnson KA. Lisinopril overdose and management with intravenous angiotensin II. Ann Pharmacother. 1994 Oct;28(10):1165-8.
17. Beland B, Tuchelt H, Bahr V, et al. The role of atrial natriuretic factor [alpha-human ANF-(99-126)] in the hormonal and renal adaptation to sodium deficiency. J Clin Endocrinol Metab. 1994 Jul;79(1):183-8.
18. Clarkson PB, Wheeldon NM, MacLeod C, et al. Effects of angiotensin II and aldosterone on diastolic function in vivo in normal man. Clin Sci (Lond). 1994 Oct;87(4):397-401.
19. Ruilope L, Paya C, Alcazar JM, et al. Failure of angiotensin II to reduce plasma renin activity in hypertensive pregnant women. J Hypertens Suppl. 1984 Dec;2(3):S251-4.