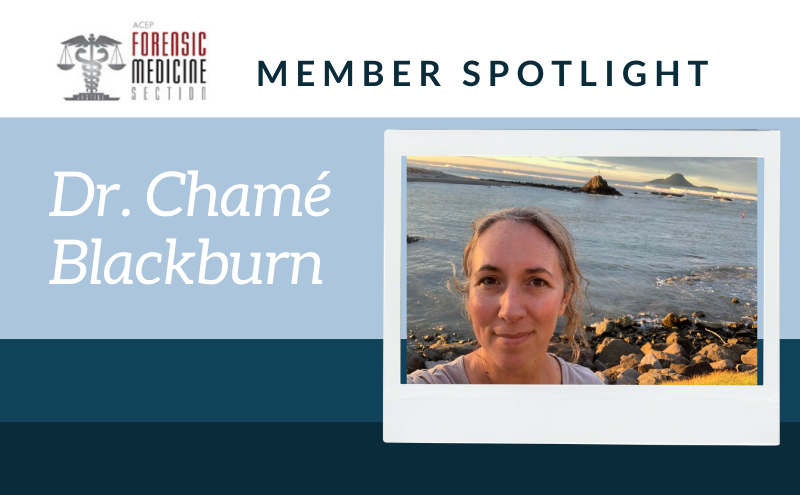 Member Spotlight
Where did you train and where do you currently practice?
Medical School was at University of Utah, and then Albany Medical College in New York for EM residency where I stayed an additional 11 years as an attending physician. Currently, I am an Emergency Physician at Whakatane Hospital in New Zealand. I also do forensic medical exams for Tautoki Mai Sexual Harm Support organization in the Bay of Plenty, New Zealand.
How did you become involved with forensic emergency medicine?
My department chair handed me the project of the SANE program at our hospital. Fortunately, I had the expert mentorship of the dedicated nurses who started this program and quickly networked with the few other EM physicians in the country who were doing this work at the time (most of them are in this section). What started as an academic responsibility quickly became a passion. I love how forensic medicine lies at the crossroads of science, law, medicine, public health and human rights.
What have been some of your interests/projects or research in the field?
I've spent a fair amount of time working on educational projects and training for physicians through ACEP and New York ACEP. I am especially interested in international forensic medicine, especially as it relates to human rights. I have worked with Physicians for Human Rights doing refugee evaluations for asylum seekers. As physicians trained in forensic examinations this work is a nice fit and I would encourage any others to become involved (www.phr.org)
I also had the privilege to serve as a visiting emergency professor at Jawaharlal Institute of Postgraduate Medical Education and Research (JIPMER) in Pondicherry, India and collaborated with several doctors there on publications and education around sexual assault topics. And now, I am working in New Zealand and learning the local laws and culture regarding forensic evaluations and caring for sexual assault victims with my colleagues at Tautoko Mai Sexual Harm Support ("Tautoko Mai" is a Maori phrase that means "support us").
What book are you currently reading?
I have a bad habit of starting several and not finishing…. But I am currently reading (and horrified) by King Leopold's Ghost by Adam Hochschild describing the exploitation of the Congo. And am really enjoying working through the Native Tongue sci-fi series by Suzette Elgin which is about a dystopian future world where women invent their own language.
Favorite Vacation?
I'm kind of living it right now in New Zealand! There is so much to do here and the scenery feels like I am in a fairy tale. The New Zealand response to Covid has allowed those lucky enough to live here to continue relatively normal day-to-day lives compared to the rest of the world. The lack of tourists this year has allowed amazing access to places that are otherwise crowded or booked.
Dream vacation?
Back to the USA to see my adult children and extended family. The downside to living in NZ currently is that the borders are closed for visitors and it is nearly impossible to travel internationally.
Favorite food?
I was born in a small town called Safford, Arizona and adore Mexican- or rather the southern Arizona version of Mexican.
What do you like on your pizza?
Pineapple
Jelly Belly Flavor?
Juicy Pear
Pet peeve?
The word "utilize."
What is something interesting about you that is totally unrelated to medicine?
I studied music as an undergraduate, and played the cello with several symphony orchestras. I married my high school sweetheart at age 19 and we have six children ages 8-23.