As discussed in previous Regs & Eggs posts, the Centers for Medicare & Medicaid Services (CMS) and other offices within the Department of Health and Human Services (HHS) have instituted numerous telehealth flexibilities during the COVID-19 public health emergency (PHE) that have greatly enhanced your ability to provide emergency telehealth services. In the calendar year 2021 physician fee schedule (PFS) final reg, CMS examines a handful of these telehealth flexibilities and determines which of them should be extended past the end of the PHE.
After the PFS final reg was released, I received numerous telehealth-related questions from you all—not about the telehealth flexibilities CMS specifically addresses in the reg, but about what the agency doesn't address. In fact, there are many telehealth flexibilities that are in place during the PHE that CMS doesn't even mention in the reg. And why is that? Not because these flexibilities aren't important, but because in most cases CMS doesn't have the legal authority to extend them past the end of the PHE.
So, let's break down what telehealth policies are in the reg, what's not included, and what that means for you going forward.
Emergency Telehealth Policies in the Reg
The major issue that CMS addresses in the reg relates to what telehealth services you can continue providing to Medicare patients after the PHE ends. CMS maintains a list of approved services (usually updated annually) that you can provide via telehealth to Medicare beneficiaries and receive full reimbursement. During the PHE, CMS temporarily included the emergency department (ED) evaluation & management (E/M) services on this list, as well as critical care and observation services. Having the ability to bill for these services—which encompass the vast majority of the services that you as emergency physicians deliver—provided a consistent reimbursement mechanism that was necessary to help stand up your ED telehealth programs.
In the reg, CMS decided to continue including all the ED E/M services, the critical care services, and some observation services on the list of approved telehealth services through the end of the calendar year in which the PHE ends (thus if the PHE ends sometime in 2021, the services would remain on the list until December 31, 2021). However, CMS does explicitly state that it still needs to see more data and evidence about the benefits of providing these services via telehealth in order to permanently add these codes to the list of approved telehealth services.
CMS also addresses a couple other telehealth flexibilities in the reg. During the PHE, CMS temporarily modified the direct supervision requirement to allow for the virtual presence of the supervising physician using interactive audio/video real-time communications technology. In the reg, CMS is extending this policy through the end of the calendar year in which the PHE ends or December 31, 2021. In addition, CMS permanently extended a flexibility granted during the PHE that allows teaching physicians to use interactive, real-time audio/video to interact with residents to meet the supervision requirement. However, CMS limits this permanent policy to residency training sites in rural areas. In other words, once the PHE ends, only teaching physicians in rural areas will be able to use telehealth to supervise residents.
Telehealth Flexibilities Not Addressed in the Reg
Unfortunately, there are numerous telehealth flexibilities that CMS does not address in the final reg, mainly (but not in all cases) because it doesn't have the authority to extend them past the end of the PHE.
Medicare "Geographic" and "Originating Site" Requirements: Under current law, Medicare can only cover and reimburse for telehealth services that are performed in rural areas of the country—not urban areas (the "geographic" restriction). Further, Medicare beneficiaries must travel to certain health care facilities such as a physician's office, skilled nursing facility, or hospital for the visit (the "originating site" requirement). They can't receive telehealth services in their homes (although there are a few exceptions.)

During the PHE, CMS was able to use a special waiver authority (called 1135 waiver authority) that it has during emergencies to waive the geographic and originating site restrictions. Thus, during the PHE, telehealth services can be provided in all areas (not just rural), and Medicare beneficiaries can receive these services from any location, including their homes.

The temporary removal of both these restrictions has truly been a game-changer in terms of expanding the use of telehealth services. However, once the PHE ends, so does CMS' authority to waive the requirements. For these restrictions to be permanently eliminated, Congress must intervene. ACEP supports federal legislation such as the Creating Opportunities Now for Necessary and Effective Care Technologies (CONNECT) for Health Act (S. 2741) that would accomplish this goal.
Licensing: Currently there are regulatory barriers that restrict the ability for physicians to get licensed and credentialed in multiple states so they can provide telehealth services to patients across state lines. During the PHE, CMS issued a temporary waiver to allow physicians who are licensed in one state to provide services to a patient another state. This waiver only applies to Medicare and Medicaid patients. Further, in order for the waiver to be effective, the state where the physician is performing the telehealth service must also waive its licensure requirements.

This waiver is another example of a policy that CMS does not have the legal authority to extend past the end of the PHE. In addition, states must also act and institute their own policies that allow physicians to see patients across state lines. While many states have allowed this flexibility during the PHE, it's not clear whether they will continue doing so once the PHE ends.
HIPAA Waivers: To be compliant with the Health Insurance Portability and Accountability Act of 1996 (HIPAA), only certain types of telecommunications systems can be used to provide telehealth services. However, to make it easier to reach patients during the PHE, the Office of Civil Rights within HHS temporarily waived the enforcement of HIPAA to allow for other types of technologies to be used, including Apple FaceTime, Facebook Messenger video chat, Google Hangouts video, Zoom, or Skype. This waiver only applies during the PHE.
Medicare Beneficiary Cost-sharing: Under current law, cost-sharing by Medicare beneficiaries for telehealth services is the same as if the services are performed in-person. You as physicians are not permitted to waive cost-sharing for specific beneficiaries, as it is a potential violation of the federal anti-kickback statute. The Office of the Inspector General within HHS waived this requirement during the PHE, providing health care professionals with the flexibility to reduce or waive cost-sharing for telehealth visits paid by federal healthcare programs.
Emergency Medical Treatment and Labor Act (EMTALA): Historically, the medical screening exam (MSE), a key component of EMTALA, must be conducted in-person. During the PHE, MSEs can be conducted via telehealth. This is one policy that CMS may have the authority to extend past the end of the PHE, but it chose not to address it in the PFS reg. ACEP hopes that CMS will consider extending or making this policy permanent. Being able to perform the MSE via telehealth has helped preserve personal protective equipment (PPE) and reduce unnecessary exposure to COVID-19.
What Does this Mean for You?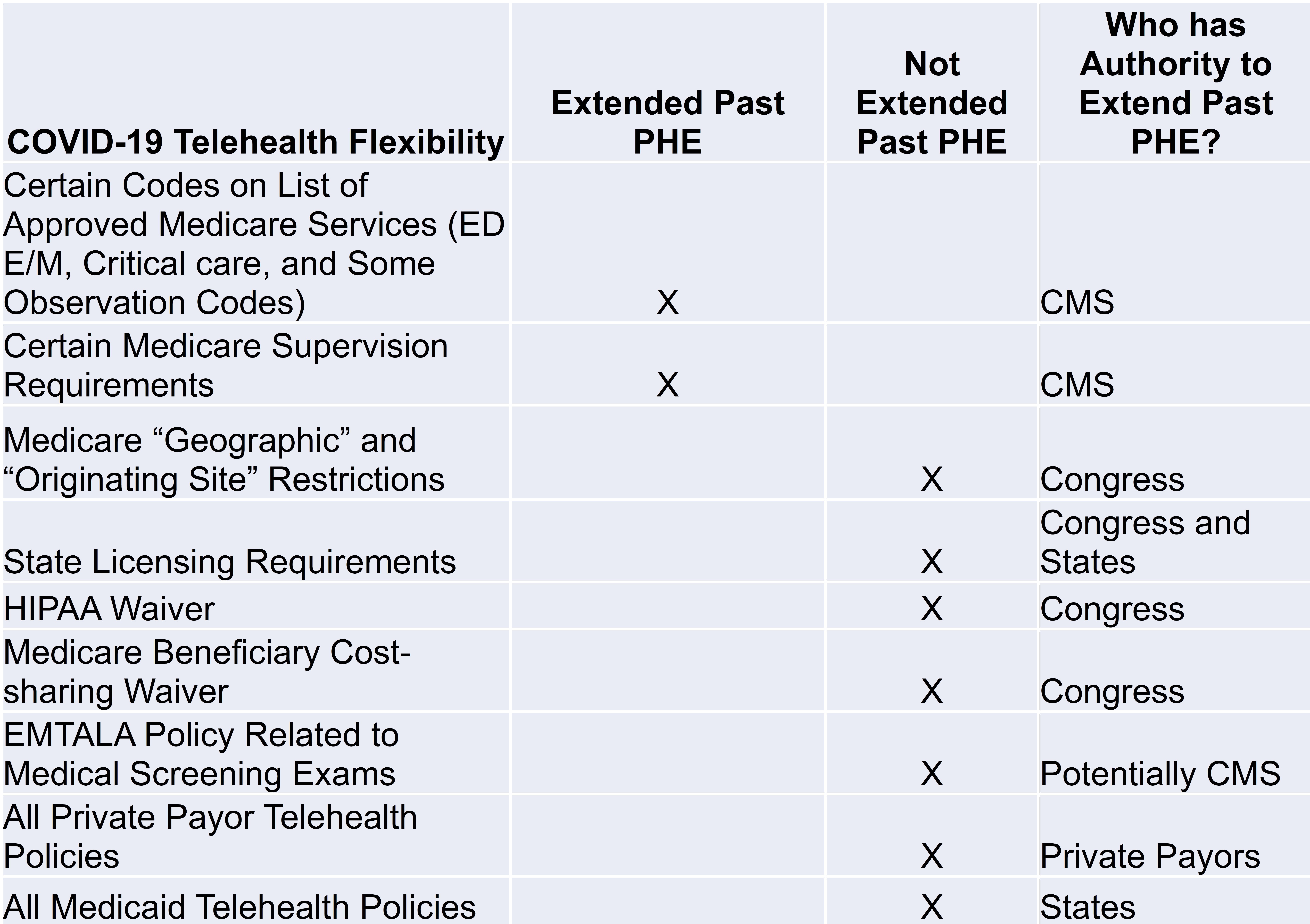 Get ready for things to change once the PHE ends! Let's say the PHE ends on August 31, 2021 (it is currently set to expire at the end of January but will likely be extended). You will still be able to provide ED E/M, critical care, and some observation services via telehealth to Medicare beneficiaries for a couple more months through the end of 2021. Starting January 1, 2022, you won't be able to bill for those services any longer (however, you are still allowed to bill office and outpatient E/M codes which are permanently on the list of approved telehealth services.) HOWEVER, although you are allowed to continue billing the ED E/M, critical care, and some observation through December 31, 2021, your ability to provide these emergency telehealth services will be extremely limited once the PHE ends. Medicare telehealth will return to a rural-only benefit, so you won't be able to provide these services in urban areas. Your Medicare patient must come into an originating site—like a hospital—to receive these services and can no longer receive a telehealth service from their home. You won't be able to provide telehealth services to a patient in another state. You won't be able to use every-day applications such as Facetime and Skype to provide telehealth services. You won't be able to provide cheaper services to certain Medicare patients in need by deciding not to collect their co-payments, coinsurance, and/or deductibles. And finally, you may not be able to provide the MSE via telehealth any longer.
All in all, unless Congress and individual states act, the telehealth rules for Medicare will change dramatically once the PHE ends. And that's just one payor. The telehealth flexibilities that private payors and state Medicaid agencies have also implemented during the PHE will also end. While ACEP is working with Congress to extend or make permanent some of these flexibilities, it is important for you to know what's coming and prepare accordingly.
A programming note before I conclude: there will be no Regs & Eggs for the next two weeks. Please safely enjoy the holiday season, and until next year, this is Jeffrey saying, enjoy reading regs with your eggs!