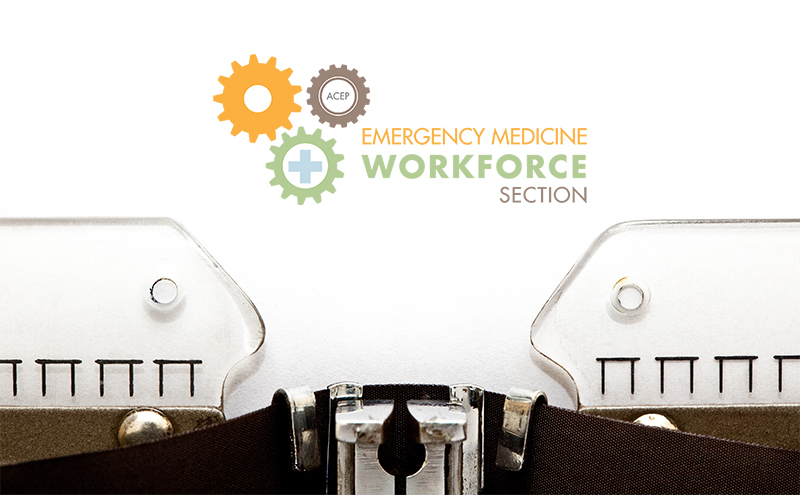 Message from the Chair: Back to Basics
I would like to welcome you to an exciting year of our section. We just concluded an extremely exciting and very successful annual section meeting at the ACEP17 in Washington, DC, as attested by the attached minutes of the meeting. We have a new section leadership team as well as a new Board Liaison, ACEP Immediate Past President, Rebecca B. Parker, MD, FACEP, and our staff liaison is Ms. Mary Hines.
Your new leadership team is chomping at the bit and ready to join the race and get to work. I would like to challenge you, our membership, to get involved. We want to hear from you and we want you to get involved in the section business. But, that begs the question:
What is the Emergency Medicine Workforce Section business?
As a reminder, the Emergency Medicine Workforce Section is chartered by the Board of Directors ("the Board") of the American College of Emergency Physicians (College) to provide a forum in which members of the College with special interests in the Emergency Medicine Workforce can develop a knowledge base, share information, receive and give counsel, and serve as a resource to others interested in this area of emergency medicine. We, the EM Workforce Section, can speak as a unified group and provide a coherent pathway for emergency medicine professional leadership development.
What are our Objectives (Mission)?
In addition to the general objectives of the College as set forth in the Bylaws, the objectives of the Workforce section are the following:
To promote the development of the specialty of emergency medicine, maintain the practice rights of emergency physicians and to continue to work on the issues related to the emergency medicine workforce.
To research and facilitate measures by which emergency physicians not residency trained in emergency medicine might achieve a measurable level of skill and knowledge.
To research methods which would enable measurement of a defined level of skill and knowledge for emergency physicians not residency trained in emergency medicine.
To serve as a forum for discussion of the recognition of emergency physicians not residency trained in emergency medicine who have achieved a defined level of skill and knowledge.
To address credentialing issues of all emergency physicians.
To educate and inform colleagues, physicians from other specialties, and the public regarding workforce issues in emergency medicine.
To address issues of job security and medical staff due process for emergency physicians.
Currently healthcare in general, and the House of Medicine in particular, is under assault and facing many external and internal challenges some of which are:
Supply and demand mismatch of quality healthcare professionals in the context of an aging population and workforce.
Inept and highly ideological (partisan) political leadership unwilling to or incapable of advancing and addressing national health care issues
Moving beyond educated guesswork and traditional assumptions towards adopting evidence based standardized practices/protocols and advanced labor management procedures in health care workforce issues
Generating reliable "big data" and then using predictive analytics to accurately predict emerging trends in national emergency department staffing needs particularly those in rural areas.
I am excited to report that with respect to the last bullet point our current ACEP President, Paul Kivela, MD, MBA, FACEP, and the Board are allocating money for a workforce study to look into current workforce needs, ratios and provider allocation. We have therefore created an EM Workforce Committee to start implementing this exciting and well needed directive. For more details please see the accompanying article by Guy Nuki, MD.
I would also want to draw your attention to Donald Lum, MD, FACEP's report on the current issues and debate with respect to Maintenance of Certification (MOC). Thank you Dr. Lum for continuing to be the Workforce expert and point person on this important issue.
Finally, I would like to thank you all for entrusting me with the leadership of this section for the next 2 years. I deeply appreciate all those who have come before me and the work they have done. It is my intention to stand on their shoulders and add to what they have already accomplished and built.
I will need every member's help in doing this.
Thank you for your time and for everything you do as emergency medicine providers.
Sincerely,
Leslie Mukau MD, FAAEP, FACEP