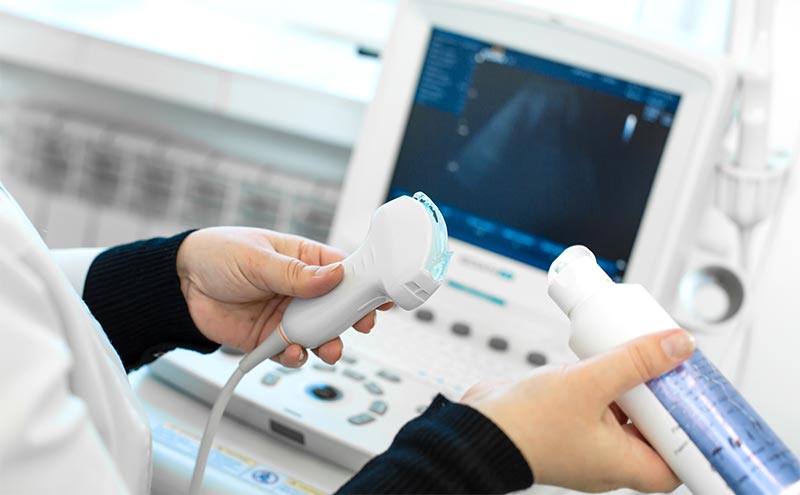 Recommendations Regarding Probe Covers and Gel Types for Procedures and Non-Intact Skin
Jason Arthur, MD, MPH, FACEP, Assistant Professor of Emergency Medicine, University of Arkansas for Medical Sciences
Petra Duran-Gehring, MD, RDMS, FACEP, Associate Professor of Emergency Medicine, University of Florida-Jacksonville
Christopher Kumetz, MD, FACEP, Facility Medical Director, Naples Community Hospital Emergency Departments, Naples, FL
Judy C. Lin, MD, FACEP, Ultrasound Fellowship Director, UCF/HCA Florida Osceola Hospital
Daniel Mirsch, DO, Clinical Assistant Professor of Emergency Medicine, University at Buffalo Jacobs School of Medicine and Biomedical Sciences
Leily Naraghi, MD, FACEP, Ultrasound Faculty, Department of Emergency Medicine, Maimonides Medical Center
Jason T. Nomura MD, FACEP, Co-Chair Emergency Ultrasound Section Safety Sub-Committee, Director of Emergency Ultrasound, Medical Director of Systemwide POCUS, Christiana Care Health System, Delaware
Adrienne Yarnish, MD, FACEP, Assistant Professor of Emergency Medicine, Banner University Medical Center, Tucson, AZ
It's been a shaky, few years on the probe cover front and a great deal of progress has been made. Back in 2017, a set of European Guidelines indicated High Level Disinfection had to be done for all ultrasound-guided procedures.1 Meanwhile, we emergency doctors, who were just trying to get difficult IVs and decrease central line infections,2 were left out in the cold. So, the ACEP Emergency Ultrasound Section began advocating, on our behalf, to get these guidelines in line with the current available evidence.3-7
Fast forward to 2022, guidelines have made leaps and bounds toward a practice that is both safe and less onerous.8,13 Only Low-Level Disinfection is now required after a procedure that uses a cover and Intermediate Level Disinfection is needed after blood contamination of the probe. However, many providers still do not follow these guidelines8 and as an act of good faith to these societies, the Joint Commission,9 and our patients, we owe it to them to do this correctly. The current ACEP EUS10 and AIUM4 guidelines indicate that a single-use sterile probe cover needs to be used when performing percutaneous procedures. For central lines, and other full sterile procedures, we should use the full sterile probe cover. Unfortunately, many are not aware that a cover needs to be used when performing IVs or nerve blocks or when contacting non-intact skin.
So, what is the problem now? Mostly, it is ultrasound-guided peripheral IVs. Many providers continue to perform these without any probe cover. Recent social media polling shows that there has been negligible movement on this issue in the past four years,8 despite the advocating of ACEP, AIUM, and others. Multi-use gel has been recommended for most ultrasounds. However, IVs, single-injection blocks, and non-intact skin should utilize single-use packets such as medical lubricant. Single-use sterile gel should still be used for fully sterile procedures.
So, what should we do? Cover the probe and use single-use lubricants for peripheral IVs. It's that simple. For that and other procedures, use this infocard to identify what kind of cover you need for what procedure. We recommend you attach it to your ultrasound machines for others to reference on shift.
On the far-left column we have the type of procedure; non-sterile being most diagnostic scans on intact skin, aseptic for non-intact skin and basic procedures such as peripheral IVs and single-injection nerve blocks, and finally, full sterile technique for central lines, thoracentesis, paracentesis, nerve block catheters, etc. In the 2nd column is the recommended glove type: no glove, regular nitrile glove, and finally, a sterile glove. The 3rd column explains the gel type to be used with regular multi-use gel for non-sterile, single-use lubricant packets for aseptic, and sterile packets for sterile procedures. Lastly, the far-right column shows no probe cover for non-sterile, single-use barriers for aseptic, and sterile probe sheaths for full sterile procedures. This final issue of barriers for peripheral IVs has been contentious, and we recommend using FDA-approved barriers for this indication. However, given the varied availability of these barriers, it should be noted that most brands of barrier device, including TegadermTM, are sterile and have a pore size of less than 30nm. Pore size matters because viruses such as Hepatitis B, Hepatitis C, and HIV all are larger than 30nm.12 This suggests that these barriers should provide protection against these viruses despite the lack of FDA approval for this indication.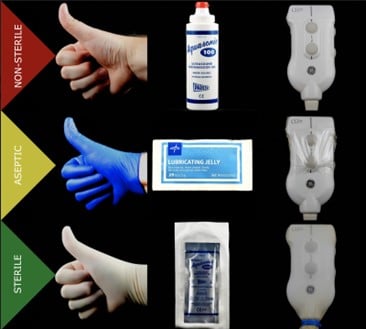 References
Nyhsen CM, Humphreys H, Koerner RJ, et al. Infection prevention and control in ultrasound - best practice recommendations from the European Society of Radiology Ultrasound Working Group. Insights Imaging. 2017;8(6):523-35.
Au AK, Rotte MJ, Grzybowski RJ, Ku BS, Fields JM. Decrease in central venous catheter placement due to use of ultrasound guidance for peripheral intravenous catheters. Am J Emerg Med. 2012;30(9):1950-4.
Adhikari S, Blaivas M, Morrison D, Lander L. Comparison of infection rates among ultrasound-guided versus traditionally placed peripheral intravenous lines. J Ultrasound Med. 2010;29(5):741-7.
Official Statement. American Institute of Ultrasound in Medicine. Published 2018. Accessed September 8, 2018.
Carrico RM, Furmanek S, English C. Ultrasound probe use and reprocessing: Results from a national survey among U.S. infection preventionists. Am J Infect Control. 2018;46(8):913-20.
Frazee BW, Fahimi J, Lambert L, Nagdev A. Emergency department ultrasonographic probe contamination and experimental model of probe disinfection. Ann Emerg Med. 2011;58(1):56-63.
Carey RF, Herman WA, Retta SM, Rinaldi JE, Herman BA, Athey TW. Effectiveness of latex condoms as a barrier to human immunodeficiency virus-sized particles under conditions of simulated use. Sex Transm Dis. 1992;19(4):230-4.
Mirsch, Daniel. [@DanMirsch] "Well, that didn't go well." "It appears not much has changed in 4 years since originally asking the question, what do you cover the probe with for a #POCUS PIV?" "There are clear guidelines on this and you put yourself at risk by not following them" Twitter 09/15/2021.
Cullen, Diane. "Reprocessing Surface Ultrasound Transducers." The Joint Commission. 06/29/2021. Accessed 11/20/2021.
Guideline for Ultrasound Transducer Cleaning and Disinfection. American College of Emergency Physicians. Published 06/2018. Revised 04/2021. Accessed 11/20/2021.
Disinfection of Ultrasound Transducers Used for Percutaneous Procedures: Intersocietal Position Statement [published correction appears in J Ultrasound Med. 2021 Nov 26;]. J Ultrasound Med. 2021;40(5):895-7.
3M.(n.d.). United States. 3M in the United States. Retrieved April 19, 2022.
Disinfection of Ultrasound Transducers Used for Percutaneous Procedures: Intersocietal Position Statement [published correction appears in J Ultrasound Med. 2022 Mar;41(3):797]. J Ultrasound Med. 2021;40(5):895-7.