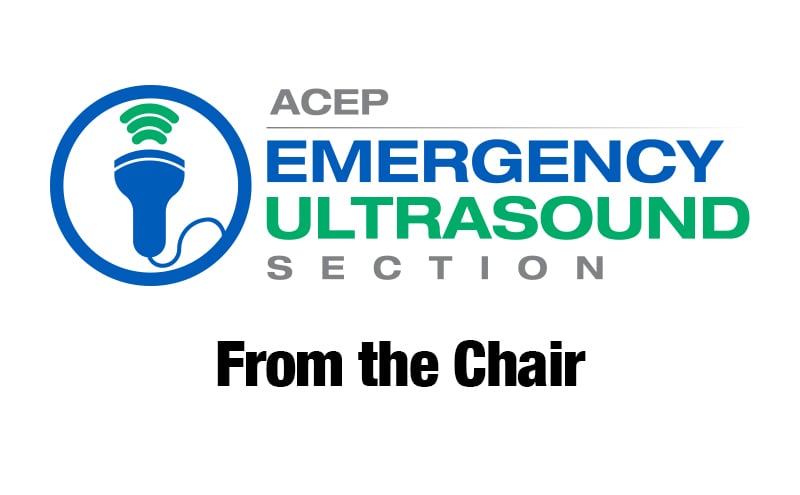 Chair's Letter
Our excellent quarterly ACEP Section newsletter is again coming to you filled with POCUS articles from our amazing team. The newsletter addresses both clinical and non-clinical topics for our large and varied readership.
The clinical pieces include two procedural clinical pieces: how to perform an ultrasound-guided pericardiocentesis after defining the presence of echocardiographic tamponade and the ultrasound-guided superficial cervical plexus block. Just as interesting are the diagnostic clinical pieces: how to properly image the bladder and not get faked out, and the "whirlpool sign" for the diagnosis of testicular torsion. These clinical pieces continue the tradition of the ACEP Ultrasound Section's goal of offering some of the best POCUS education.
The two non-clinical pieces address something relevant to almost all of our readers. The first deals with the basics of research. Even though some may not be designing or performing ultrasound research, understanding the basics allows everyone to better interpret the POCUS papers to keep our knowledge up to date. And finally, the last piece really defines our current best practices for ultrasound probe disinfection after procedures. A recent multi-specialty statement that started from work done by ACEP and AIUM leaders used common sense principles and current best data to ensure that we can still perform low-level disinfection (LLD) for our transducers between procedures.
Hope to see everyone at ACEP Scientific Assembly 2022 in San Francisco this coming October 1 from 1:00 – 3:30 pm at the Hilton San Francisco Union Square (Continental Ballroom 5). Looking forward to catching up with old friends and meeting the young POCUS leaders who will continue to change the way clinical medicine is practiced all over the world, one scan at a time.
Thanks,
Arun Nagdev, MD
Director, Emergency Ultrasound
Alameda Health System / Highland Hospital
Chair, ACEP Ultrasound Section