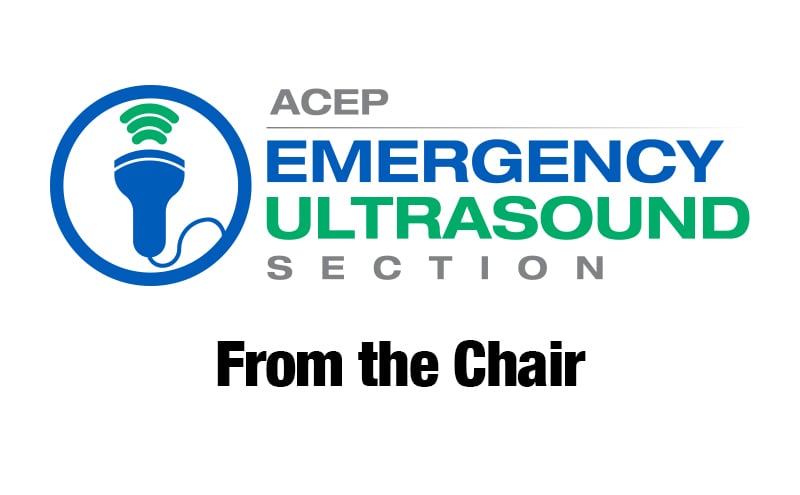 From the Chair
Dear Ultrasound Section Members,
This likely my last Chair's Corner before turning over the reins to the uber-competent, experienced and engaged Dr. Penelope (Penny) Lema. I could not wish for a more thoughtful and talented person to work with this year and next. Penny and our lives have intersected so many times and she significantly influenced my interest in ultrasound. She was a year ahead of me in medical school at SUNY Stony Brook and recruited me to residency at North Shore Hospital in Manhasset, NY (now Northwell), where my attendings included the well-known clinical ultrasound gurus Dr. Chris Raio, Dr. Daniel Theodoro, Dr. Jerry Chiricolo, and Dr. Mat Nelson. During this time Dr. Resa Lewiss was still at St. Lukes/Roosevelt and she held quarterly City-Wide Ultrasound Grand Rounds. As a very junior person I was able to attend sessions with my academic idols and their passion and engagement hooked me on ultrasound forever.
Snowy Denver ACEP seems like a million years ago after this "unprecedented" year, but you may recall my goals for this year was to; 1) increase the visibility of our subcommittee members and their hard work, 2 ) facilitate a rising star pipeline that engages and mentors future leaders (like I had during residency and fellowship), and 3) encourage collaboration and communication with our non-EM pocus users to ensure rigorous training standards, quality care, and evidence based research. To accomplish item 1, I significantly restructured the role of the ACEP US secretary so that the Senior Secretary runs the subcommittees and the Junior Secretary manages the newsletter and works with the social medial leader. Dr. Michael Gottlieb did an absolutely outstanding job organizing the subcommittees, and leveraged resources to encourage new members and more frequent communication. Dr. Marina Shpilko and I formalized the newsletter committee (Drs. Di Coneybeare, Chris Dicroe, Judy Lin, Manpreet Singh, and Viveta Lobo) and she and her group have provided amazing and timely content.
Item 2 remains a work in progress. When you look at the leadership across ACEP, AEUS, SCUF, and AAEM you'll see significant redundancy in the names. The same small group of people are on the majority of committees and we need to do a better job at encouraging new voices, increasing diversity, and creating an avenue for new leaders. The subcommittees are a great place for rising stars to make their names. My advice to my residents and fellows has always been, "show up, do the work, and follow up." If you have an interest in leadership my recommendation is to attend national meetings, go to the section and subcommittee meetings, engage yourself in activities, and deliver content on time. Soon your name will be known, and your contributions will be recognized. From a leadership standpoint, we can encourage our fellows and recent graduates to join us at the table, to take on roles, and to value leadership activities.
Item three is the elephant in the room. The identity of "pocus" is a dynamic one. EM ultrasound, called "pocus", "clinical ultrasound", "bedside ultrasound", "emergency ultrasound", among many other monikers, comes with decades of dedication to the topic. Emergency medicine has detailed societal guidelines, an imaging compendium, templated worksheets, and a clear scope of practice. As other specialties adopt clinical ultrasound their indications, scope of practice, training guidelines, competency assessments, and expectations around image archival and documentation may be different from that of emergency medicine. We in emergency medicine need to be vigilant for scenarios where semantics cause confusion. For example, the ECRI document that identified POCUS as one of the top 10 medical safety concerns of 2020. I'm hopeful that in 10 years ultrasound training in medical school and ACGME accredited residencies will be so ubiquitous that clinical ultrasound will be a core competency for all graduates. Until then, we need to model and amplify the standards of our EM specialty.
I want to take the opportunity to thank our Staff Liaison Julie Rispoli for the truly exceptional dedication she has given to the ACEP Ultrasound Section over the years, to our Board Liaison Dr. JT Finnell, to Dr. William Jaquis ACEP President and former section Board Liaison, Dr. Dan Theodoro our sections immediate Past-Chair, and to you all, the ACEP ultrasound section members for the opportunity to serve. See you all at virtual ACEP 2020!
Best,
Nova Panebianco, MD, MPH, FACEP