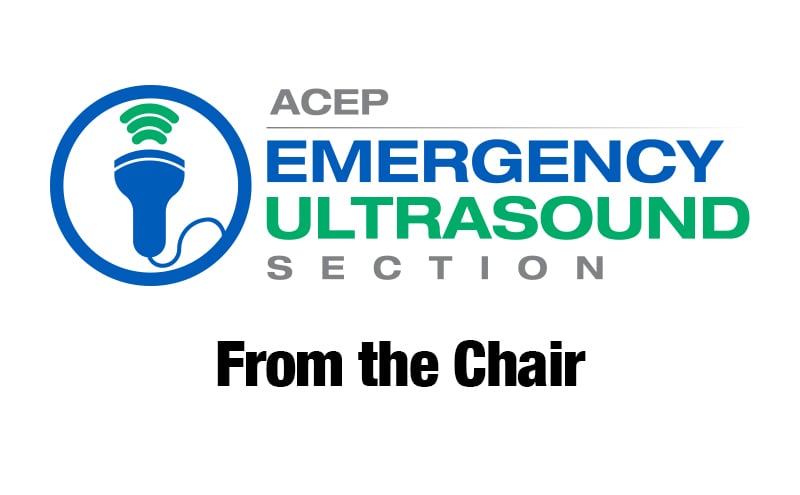 From the Chair
Arun Nagdev, MD, Director, Emergency Ultrasound, Alameda Health System/Highland Hospital Chair, ACEP Emergency Ultrasound Section
Welcome to my first Chair Newsletter of the year. I am very excited to receive the baton from the amazing Dr. Penny Lema and try to continue the great work for which the Emergency Ultrasound Section at ACEP is famous.
I want to begin with pointing out something that you already know: POCUS is the future of medicine! Our section and EM leaders have been defining novel clinical uses, workflow integration, best-in-class education, billing, and policy for many years. Due to the hard work of the section, I can clearly see that the tipping point for POCUS is approaching very quickly. Bedside ultrasound is an essential part of optimal emergency care and rapidly gaining traction in every other field in medicine. Emergency physicians have defined POCUS as a critical tool, from the rural ED to the quaternary care academic center, improving clinical care for numerous patients, and changing the way medicine is practiced all over the world.
This month's newsletter is filled with excellent articles from our POCUS leaders around the country and continues on the journey to improve the knowledge of everyone in our section.
Dr. Rob Ferre's (and Dave Hennon's) article on understanding IT jargon is essential for everyone in the POCUS community. The technical sounding title may scare some readers; however, understanding data transfer from our ultrasound systems to the hospital IT infrastructure is as relevant to the EM doc running an ultrasound program as the FAST exam. When performing a FAST, the goal is to communicate our findings in the language of our colleagues (trauma surgeon, radiologist or other ED colleagues). Similarly, when developing a protocol for image sharing, billing or credentialing, having the ability to communicate clearly with hospital administration and specifically, IT, is mandatory. The first installment helps us learn this often confusing and opaque vernacular. Essentially, this article breaks down "geek speak" that we need to know the next time we speak with our IT colleagues. I can't wait to read the next installations and learn all the technological jargon I need to know.
Next are two core educational articles on measuring bladder volume and the evaluation of pediatric appendicitis evaluation. The central tenet of education is again simplified and expertly detailed by a few of our members. These educational nuggets are the foundation of the educational ethos of the ACEP Ultrasound Section.
And finally, two articles that define the importance of research mentorship and guidance during medical training. Along with clinical education, research is a central tenet to EM practice. As expertly described by Drs. Russell and Roppolo, learning to perform basic research can be educational to everyone from medical students to senior faculty. Along with building a CV, research allows all clinicians the ability to read articles in a nuanced manner and integrate findings into everyday clinical care. Drs. Prat, Liu, Theyyunni, and Alerhand detail the importance of ultrasound tracks in residency. They detail how these important educational opportunities for residents are growing in EM and help produce academicians who can continue to grow the development of POCUS.
Looking forward to a great year working alongside the leadership in the ACEP Ultrasound Section. Our section is full of some of the most talented clinicians in EM who are pushing the boundaries of POCUS and medicine.