Fellow's Corner: Clinical Ultrasound Fellowship Match
2018-2019 is the inaugural year for the Point of Care Clinical Ultrasound Fellowship participation in the Match. We sought to gain some feedback on the statistics, process, and responses of the applicants and program directors.
This article is Part I of the series providing us with some of the data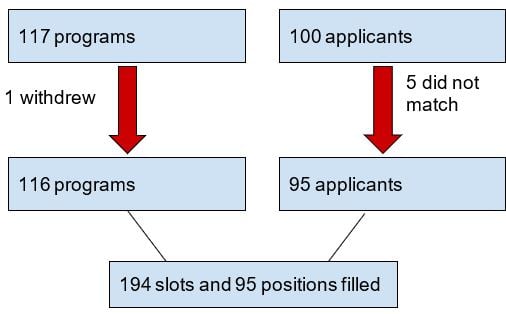 Of the 116 programs, 47 filled all their positions (40.5%), 69 were unfilled (59.5%). Of the 194 slots in the match, 95 positions were filled. This indicates that of the programs that did not fill, many of them matched someone, though not as many openings as they had. Considering that there were 100 applicants for 194 positions, the Match for Ultrasound was a success overall. Ultrasound had a smaller percentage of unmatched applicants than both EMS and Tox, who were also in the match this year.
Characteristics of Matched Applicants:
Of the 95 matched:
U.S. Grad 68 - 71.6%
U.S. Foreign 9 - 9.5%
Osteopathic 16 - 16.8%
Foreign 2 - 2.1%
Stay tuned for later editions with more information forthcoming on applicant and program director's feedback, as well as additional applicants' info and data.
Jeremy Boyd, MD, FACEP1;
Arthur Au, MD2;
Marina Shpilko, DO3
1Vanderbilt University Medical Center
2Thomas Jefferson University
3University Hospitals, Case Medical Center