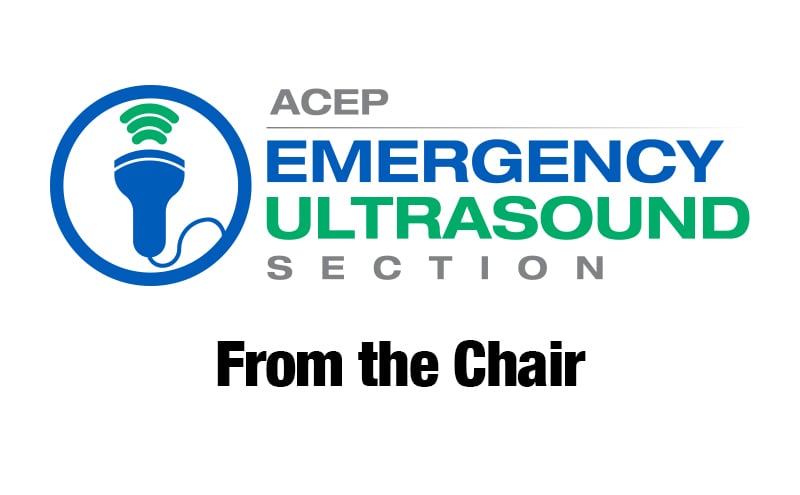 Chair's Letter
Michael Gottlieb, MD, FACEP
ACEP EUS Chair
Associate Professor of Emergency Medicine
Director, Emergency Ultrasound Division
Program Director, Clinical Ultrasound Fellowship
Department of Emergency Medicine
Rush University Medical Center
Welcome to the first newsletter of 2023! It is my privilege and honor to serve as the new ACEP Emergency Ultrasound Section Chair following in the footsteps of countless leaders and with an incredible team in Arun Nagdev, Meghan Herbst, Elaine Situ-LaCasse, Steve Alerhand, Laura Oh, Gregg Helland, and Julie Rispoli.
I want to begin by thanking Penny Lema, Javier Rosario, and Jeremy Boyd for their service and leadership, as well as Arun Nagdev for leading our section this past year. I also want to thank all of our outgoing and current subcommittee chairs for your work this year. I am so proud of what you have all accomplished and I look forward to highlighting it in this and future issues of the newsletter. For this newsletter, we will be featuring the Systemwide Ultrasound Clinical Ultrasound Subcommittee (led by Zach Soucy and Svetlana Zakharchenko). In this piece entitled "Oh, the Places You'll Go: System-Wide Point of Care Ultrasound", they highlight some recent updates, their agenda for 2023, and share their high-yield free open access website.
In addition, we have two interesting cases with outstanding images Kolten Fischer and Lindsay Taylor share a great case of Hypertrophic Cardiomyopathy, as well as the newest Critical Care Subsection card which features a high-quality, one-page primer to master the bedside diagnosis. Then, Emily Cen, Irina Sanjeevan, and Leily Naraghi share their fascinating case using POCUS to diagnose a tibial tubercle fracture. Javier Rosario includes a "must-read" on improving DEI within in Clinical Ultrasound. Finally, Lynn Roppolo, Frances Russell, Lindsay Taylor, John DeAngelis, Petra Duran-Gehring, Chris Moore MD, and I sought to tackle one of the biggest questions in research: Where Do I Publish? in part three of our research series.
I am looking forward to a great year working with and learning from you all. Please don't hesitate to contact me any time if you have ideas for how the Emergency Ultrasound Section can better serve you.
Until then, enjoy the newsletter!