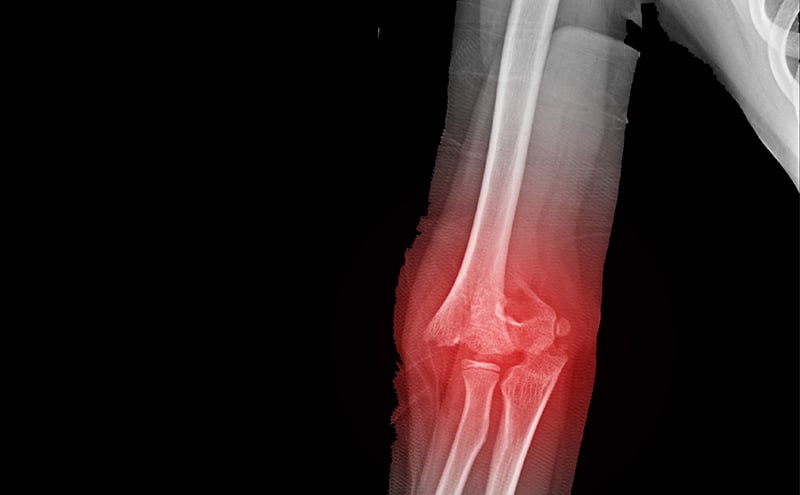 Supracondylar Fracture
EUS Section Sonoguide Subcommittee

Case
A 4- year-old girl comes in with her parents for evaluation of acute left arm pain after a fall from monkey bars. She has her left arm held in a fixed and adducted position. On physical exam there is isolated tenderness of the left elbow, without any swelling, bruising, or open wounds. The patient is able to actively pronate with only mild discomfort. She is otherwise neurovascularly intact, and the rest of the examination is unremarkable. You notice an ultrasound machine by the bedside. What are the findings and scanning technique used when evaluating the elbow joint with point-of-care ultrasound?
The Traumatic Pediatric Elbow
Supracondylar fractures in pediatrics are a common diagnosis in the emergency department. Garland Type II to IV fractures are displaced and fairly obvious on radiographs. These will require close reduction, orthopedic surgical consultation, and likely surgical pinning. Garland Type I are non-displaced supracondylar fractures. They are often subtle and may be missed on plain radiographs as a fracture line may not be detected. Rather, occult elbow fractures are often diagnosed by the presence of an enlarged triangularly shaped anterior fat pad known as the "sail sign" and/or the presence of a posterior fat pad. One should also be sure to look at the anterior humeral line on the lateral view to ensure it intersects the middle third of the capitulum in children greater than five years of age; if it does not, it may also indicate a supracondylar fracture. However, plain radiographs may still miss these findings, and ultrasound can supplement your workup and assessment – pointing you to the appropriate treatment plan.
Scanning Technique and General Tips
Position the elbow in a 90-degree, flexed position; this may also often be the position of comfort for the patient. Use a high frequency linear transducer for more superficial structures and higher resolution. Scan in both orthogonal planes as depicted below (longitudinal and transverse views). You are looking to identify any obvious cortical irregularity along the humeral cortex. Most importantly, you are evaluating for the presence of an effusion/lipohemarthrosis within the posterior aspect of the elbow joint, which results in an elevation and displacement of the posterior fat pad.
Technique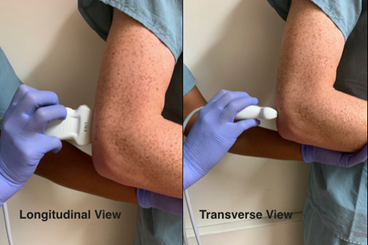 Normal Ultrasound
Longitudinal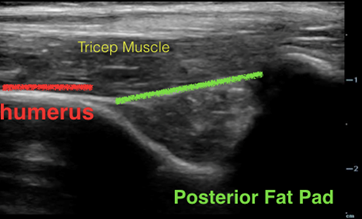 In an elbow without injury, the fascial line that connects bony prominences in the olecranon fossa is flat and slightly below each bony ridge.
Abnormal Ultrasound
Longitudinal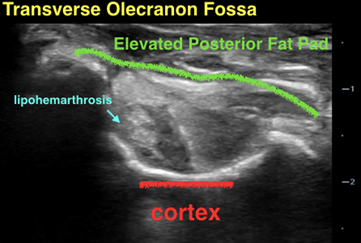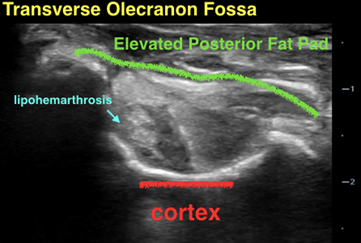 In the elbow with an occult supracondylar fracture, the posterior fat pad will be elevated above
In the elbow with an occult supracondylar fracture, the posterior fat pad will be elevated above the bony prominences in both orthogonal planes
Accuracy of ultrasound in elbow trauma
Few studies have demonstrated greater accuracy for ultrasound when comparing ultrasound and X-rays for diagnosis of pediatric elbow fractures—particularly for supracondylar fractures. The strongest indicator of an occult elbow fracture is a positive posterior fat pad sign on ultrasound. Across various studies, the sensitivity and specificity of ultrasound in diagnosis ranges from 88 - 100%, and 93.5 - 100%, respectively. The negative and positive predictive values range from 86 - 100%, and 95.2 - 100%, respectively.
Main Takeaways
Ultrasound is a fast and simple modality to incorporate into the evaluation of elbow pain after trauma in pediatric patients
Scan the elbow in both orthogonal planes looking for elevation of the posterior fat pad above the curvature of bony prominences.
Although it ultimately may not obviate the need for radiography; in cases where X-ray is read as falsely positive or negative, ultrasound may be essential in correct medical decision making.
References
Burnier M, Buisson G, Ricard Aet al. Diagnostic value of ultrasonography in elbow trauma in children: Prospective study of 34 cases. Orthop Traumatol Surg Res. 2016;102(7):839-43. PMID: 27697406.
Eckert K, Ackermann O, Schweiger B, et al. Ultrasound evaluation of elbow fractures in children. J Med Ultrason. 2013;40(4):443-51. PMID: 27277459.
Eckert K, Janssen N, Ackermann O, et al. Ultrasound diagnosis of supracondylar fractures in children. Eur J Trauma Emerg Surg. 2014;40(2):159-68. PMID: 26815896.
Varga M, Papp S, Kassai T, et al. Standardized sonographic examination of pediatric elbow injuries is an effective screening method and improves diagnostic efficiency. Injury. 2020 Feb 28:S0020-1383(20)30133-9. Epub ahead of print. PMID: 32173077.
Dr. Olga Diaz MD
Emergency Ultrasound fellow at Kaiser Permanente in San Diego.
Dr. Gabriel Rose DO
co-director of emergency ultrasound at Kaiser Permanente San Diego.