POCUS for Shoulder Pain in the Emergency Department
EUS Section Simulation Subcommittee
Roberto Marrero-Zeda, MD1,3; Mark Rivera-Morales2,4, MD; Fernando Rivera2,5, MD; Javier Rosario, MD, FACEP1,6
1. Emergency Medicine Ultrasound Fellowship, UCF/HCA Emergency Medicine Residency Program of Greater Orlando, Florida 2. PGY2 Resident at UCF/HCA Emergency Medicine Residency Program of Greater Orlando, Florida 3. r.c.marrero.zeda@gmail.com 4. mark.riveramorales@ucf.edu 5. Fernando.rivera-alvarez@ucfedu 6.javier.rosario@ucfedu
Introduction
Shoulder pain is a common complaint in the emergency department (ED). Roughly, it is estimated to encompass about 14.7 cases per 1000 patients annually.1 Undifferentiated shoulder pain can have a wide variety of causes, including tendinopathies; clavicular, acromioclavicular, and rotator cuff injuries; as well as, traumatic and non-traumatic subluxations, dislocations, and fractures.2 The incidence of shoulder dislocations in the U.S. is around 23.9/100,000 patients per year, with the anterior dislocation being the most commonly seen in 98% of cases, followed by the posterior (< 1%) and the inferior dislocation.3 It can be accurately diagnosed and differentiated from a shoulder subluxation by use of point of care ultrasound (POCUS).4,5 In this short article, we will review the shoulder POCUS posterior approach and give examples of POCUS findings for the anterior and posterior dislocations, subluxations, and fractures.
Shoulder POCUS: The Posterior Approach
In the shoulder POCUS, a posterior approach allows the visualization of the humeral head in relation to the glenoid fossa. The following are the steps to perform in order to obtain this view.
Ideally, the US machine should be placed in front of the patient, while placing yourself behind. Localize and palpate the scapular spine. Then place the probe on top, in a transverse plane with the probe's marker pointing towards the patient's left side. The curvilinear probe is preferred to be used because of its larger footprint and superior penetrance, but the phased array or linear probe can also be used depending on the patient's body habitus and the sonographer's preference.6
The scapular spine can be identified as a hyperechoic line with a posterior shadow. Note that the deltoid and the infraspinatus muscles can be seen above the scapular spine (See Figure 1).
Continue sliding the probe laterally along the scapular spine towards the glenohumeral joint (GHJ), until visualizing the glenoid fossa which is closely followed by the humeral head (See Figure 1). Positioning the glenoid fossa and the GHJ in the center of the screen while adjusting the depth, will result in a better image quality. Asking the patient to externally and internally rotate the affected shoulder will aid in identifying the humeral head (See Figure 2).
An anterior shoulder dislocation will show the humeral head displaced to the far field region of the screen, while the posterior dislocation will show the humeral head displaced to the near field region (Figures 3 and 4). A shoulder subluxation will show the humeral head partially sliding (or "dislocating") in and out of the GHJ with shoulder movement (Figure 5). While less accurate, POCUS can also help identify fractures, such as the Hill-Sachs, the Bankart, or a humeral head fracture (Figure 6).
Secko MA, et al. has estimated a 100% sensitivity and specificity in diagnosing a shoulder dislocation by using the posterior approach technique. They also established that an anterior dislocation has a glenohumeral distance cutoff value of at least 0.5 cm.6
Summary
Using POCUS could potentially reduce the use of pre-reduction radiographs in patients with clinically evident dislocations, assists in GHJ intra-articular joint injections, and confirm the in real time if a reduction was successful.6-8 Shoulder POCUS serves as a reliable diagnostic modality that maximizes the utilization of ED resources, shortens ED lengths of stay, and improves patients' overall satisfaction.
Gallery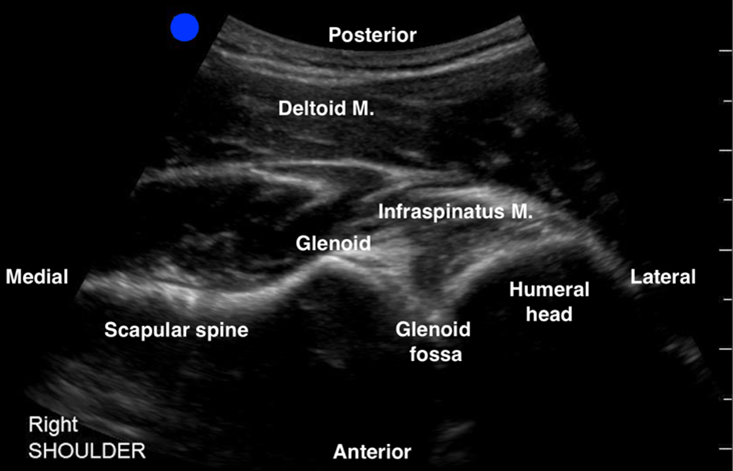 Figure 1: Normal right shoulder
Figure 2: Right shoulder anterior dislocation

Figure 3: Right shoulder posterior dislocation

Figure 4: Non dislocated left humeral head fracture. Humeral head and neck fracture confirmed on plain x-ray
References
Spangler M, Weinstock MB. Shoulder pain in the urgent care. J Urgent Care Med. Published Jun 1, 2015. https://www.jucm.com/shoulder-pain-in-the-urgent-care/
Vitoonpong T, Chang KV. Shoulder subluxation. StatPearls [Internet]. Treasure Island (FL): StatPearls Publishing. Published Jan 2020. Updated Aug 29, 2020. https://www.ncbi.nlm.nih.gov/books/NBK507847
Bjoernsen L, Ebinger A. Shoulder and Humerus Injuries. In: Tintinalli JE, Ma O, Yealy DM, Meckler GD, Stapczynski J, Cline DM, Thomas SH. eds. Tintinalli's Emergency Medicine: A Comprehensive Study Guide, 9e. McGraw-Hill; 2020.
Zacchilli MA, Owens BD. Epidemiology of shoulder dislocations presenting to emergency departments in the United States. J Bone Joint Surg Am. 2010;92(3):542-9.
Rivera-Morales MD, Rivera F, Fusco N, Rosario J. Ultrasound for the Win! 18M with Acute Shoulder Injury. Academic Life in Emergency Medicine/ALiEM website. Published Nov 11, 2020. https://www.aliem.com/ultrasound-for-win-acute-shoulder-injury-us4tw/
Secko MA, Reardon L, Gottlieb M, et al. Musculoskeletal ultrasonography to diagnose dislocated shoulders: A prospective cohort. Ann Emerg Med. 2020;76(2):119-28.
Gottlieb M, Holladay D, Peksa GD. Point-of-care ultrasound for the diagnosis of shoulder dislocation: A systematic review and meta-analysis. Am J Emerg Med. 2019;37(4):757-61.
Orloski J, Eskin B, Allegra PC, Allegra JR. Do all patients with shoulder dislocations need prereduction x-rays? Am J Emerg Med. 2011;29(6):609-12.