Authors: Ehtisham Mahmud, MD, FACC, FSCAI; Harold L. Dauerman, MD, FACC, FSCAI; Frederick GP. Welt, MD, FACC, FSCAI; John C. Messenger, MD, FACC, FSCAI; Sunil V. Rao, MD, FACC, FSCAI; Cindy Grines, MD, FACC, MSCAI; Amal Mattu, MD, FACEP; Ajay J. Kirtane, MD, SM, FACC, FSCAI; Rajiv Jauhar, MD, FACC, FSCA; Perwaiz Meraj, MD, FACC, FSCAI; Ivan C. Rokos, MD, FACEP; John S. Rumsfeld, MD, PhD, FACC; Timothy D. Henry, MD, FACC, MSCAI
Mahmud E, Dauerman HL, Welt FG, et al. Management of acute myocardial infarction during the COVID-19 pandemic [published online ahead of print, 2020 Apr 21]. J Am Coll Cardiol. 2020;S0735-1097(20)35026-9. doi:10.1016/j.jacc.2020.04.039
The following information has been abstracted. Refer to the full document cited above for a detailed rationale and complete list of references.
Summary recommendations for care of patients with acute myocardial infarction during the COVID-19 pandemic
All ST-elevation myocardial infarction (STEMI) patients should initially undergo an evaluation in the emergency department.
Patients should be evaluated in the emergency department prior to cardiac catheterization laboratory (CCL) activation to ensure appropriate risks are assessed.
All patients require the placement of a face mask to prevent droplet contamination of the CCL and environment prior to transport.
CCL staff and physicians should have appropriate personal protective equipment (PPE) for safe performance of the procedure, including gown, gloves, full face mask, and an N95 respiratory mask. If N95 masks are to be reused between cases by a single health care worker (HCW), then an additional surgical mask should be worn on top of this mask. The number of HCWs present during the procedure should be limited to only those essential for patient care and procedure support.
Patients with respiratory compromise should be intubated prior to arrival in the CCL, if possible.

If intubation is required in the CCL, all personnel should have complete PPE, and exposures should be minimized to essential team members only.
For all procedures at high risk of aerosolization, powered air purifying respirators (PAPRs) should be considered.

Proper PPE training should be provided and practiced by physicians and CCL staff involved in all cases, and extra consideration should be given to the protection of trainees in high-risk patients and procedures.
Primary percutaneous coronary intervention (PCI) should remain the default strategy in patients with clear evidence of a STEMI; if a primary PCI approach is unfeasible, a pharmacoinvasive approach may be considered.
During the COVID-19 period, there may be delays in door-to-balloon (D2B) times that result from evaluation or management of COVID-19 patients. This can be documented in the medical record and coded in the NCDR CathPCI Version 5 as follows:

If primary PCI for STEMI, code "Yes" for Seq. #7850 (Patient Centered Reason for Delay in PCI) and selecting "Other" in Seq. #7851 (Delay Reason).
If primary thrombolytic therapy for STEMI, code "Yes" for Seq. #14208 (Patient Reason for Delay in Thrombolytic).

Within the CCL, a single negative-pressure procedure room with essential supplies only is preferable for the care of known COVID-19 positive or probable patients with a terminal clean after the procedure.
To preserve ICU beds, all hemodynamically stable STEMI patients following PCI should be admitted to an intermediate care telemetry unit with a plan for early (<48 hours) discharge.
STEMI regional systems of care
System wide: emergency medical services, STEMI-referral hospitals, and PCI centers
Each regional STEMI system should update their system of care immediately to maximize patient and provider safety, including adequate PPE during transport and procedures for STEMI patients who are COVID-19 positive or probable.
First medical contact to reperfusion time remains of paramount importance and should not substantially delay primary PCI for STEMI patients. Additional time at the primary PCI center emergency department or ICU may be a necessary delay required for confirmation of COVID-19 and STEMI status prior to transfer to the CCL.
STEMI patients with cardiogenic shock and/or resuscitated cardiac arrest should still be prioritized for a primary PCI approach. If timely PCI is impossible or a team, a room, or PPE is unavailable, a pharmacoinvasive strategy may be considered.
It is critical to ensure PPE and rapid sterilization procedures are prioritized throughout the entire system of care and that communication occurs among the transfer hospital, emergency medical services (EMS), emergency department, and CCL providers regarding COVID-19 status.
Emergency medical services, field-activated STEMI, and referral (non-PCI) hospitals
EMS should include a brief assessment of COVID-19 status (positive, probable, or possible) in their report to the PCI center for an incoming STEMI patient. If a patient is COVID-19 positive or probable, EMS should follow CDC guidelines regarding droplet precautions during and immediately after transfer.
All transfer STEMI patients should be re-evaluated at the primary PCI center emergency department or ICU for COVID-19 status, and the concept of emergency department bypass should not be used during the pandemic.
Patients with STEMI at a referral hospital with established COVID-19 infection should be discussed prior to transfer to a PCI center. Fibrinolysis within 30 minutes of STEMI diagnosis, and transfer for rescue PCI when necessary, may be preferable for all COVID-19 positive STEMI patients who are at a referral hospital, provided the diagnosis of a true STEMI is highly likely.
Page 28, Figure 1. Care for ST elevation on electrocardiogram at primary percutaneous coronary intervention (PCI) center.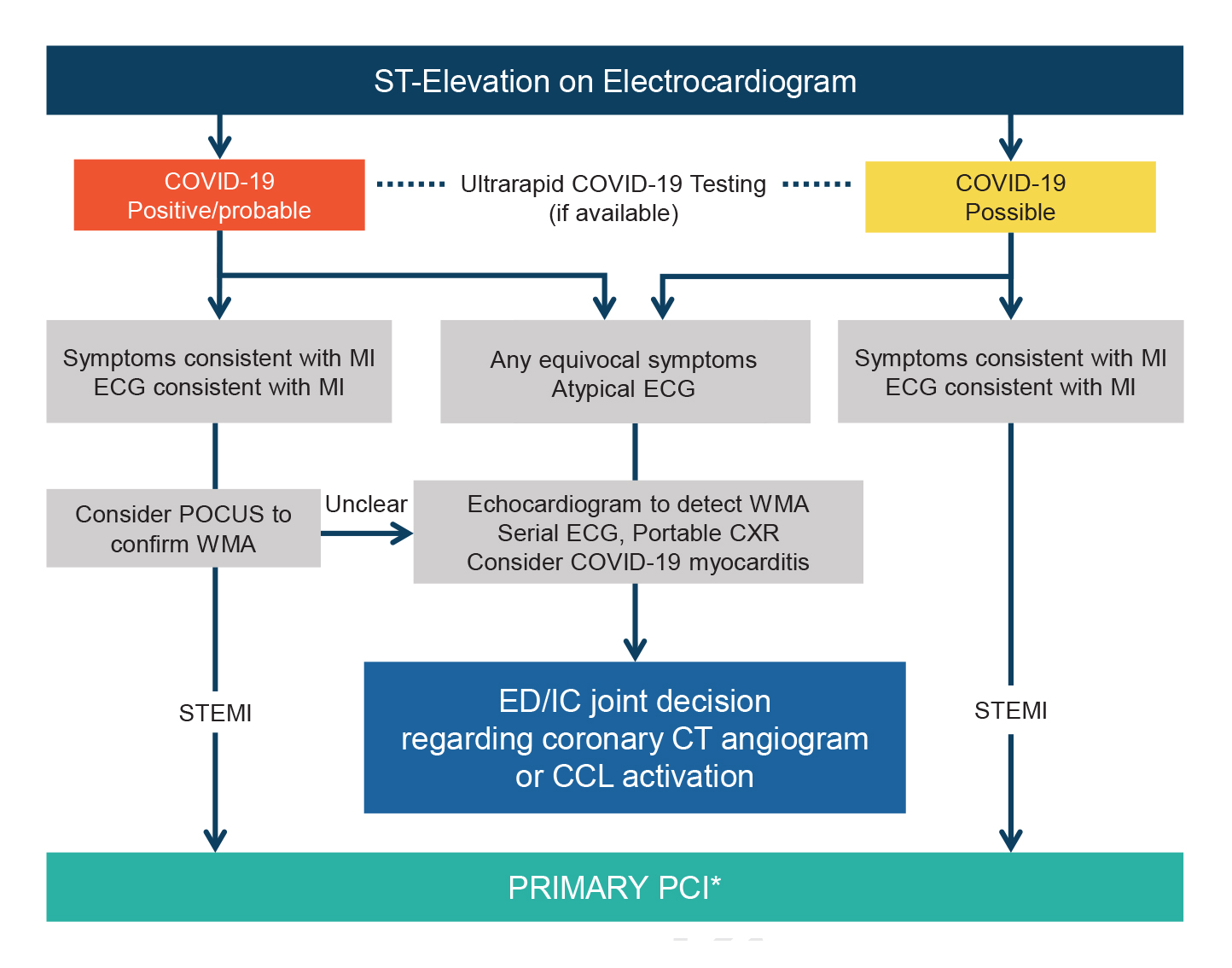 Page 29, Figure 2. Management approach to a field ST-elevation myocardial infarction (STEMI).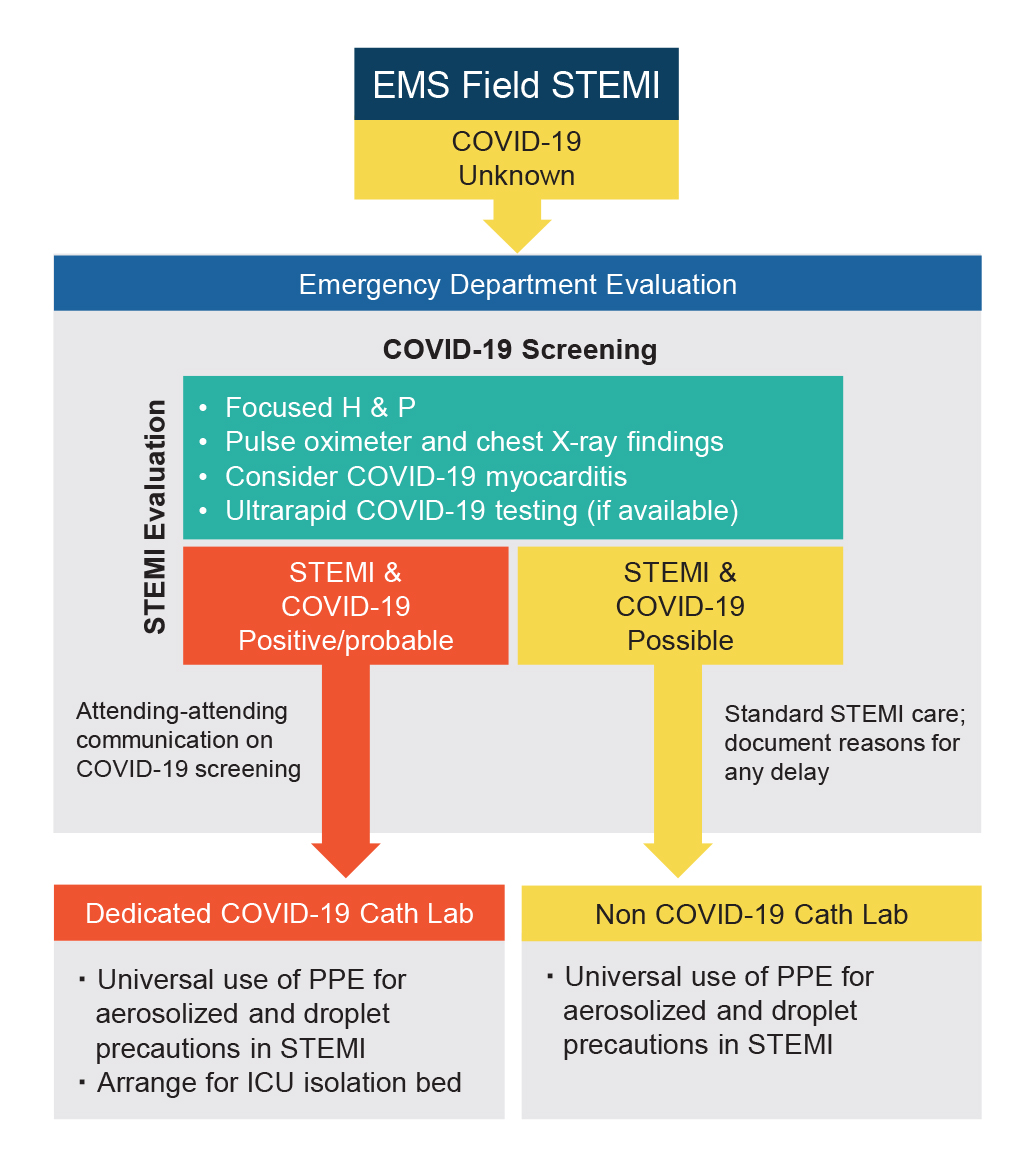 Page 30, Figure 3. Care pathway for ST-elevation myocardial infarction (STEMI) at referral hospital (non-PCI center).