Depending on the type of surface, COVID-19 may be viable for hours or potentially days. A summary of the findings are included in Table 2.1.1
Table 2.1 Viability of COVID-19 on various surfaces.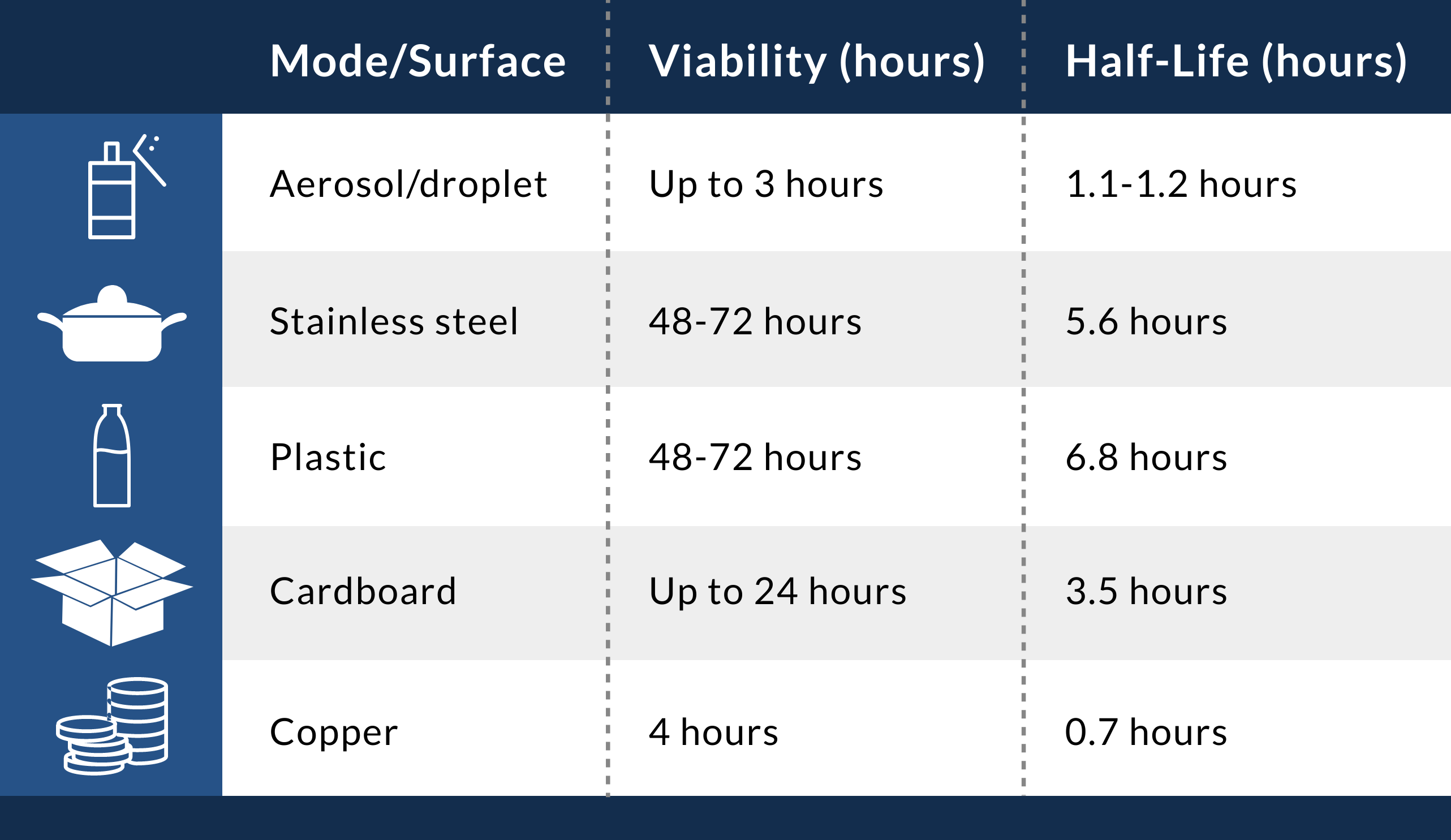 These findings are important, as contamination of surfaces with droplets of the COVID-19 virus is possible and can persist. Coming into contact with contaminated surfaces and subsequently transferring the virus to mucous membranes may transmit the virus and infection.
Recent findings have demonstrated that infectious SARS-CoV-2 can be recovered from non-porous surfaces for at least 28 days at ambient temperature and humidity (20 °C/68 °F and 50% relative humidity). In the same study, increasing the temperature while maintaining humidity drastically reduced the survivability of the virus to as little as 24 h at 40 °C/104 °F.2
It is important to limit the spread and transmission of the virus by:
Decontaminating surfaces, especially those that have high utilization and contact frequency (eg, counters, tabletops, doorknobs, keyboards, tablets);
Practicing hand hygiene;
Avoiding touching the face; and
Ensuring appropriate personal protective equipment (PPE) utilization.
Additionally, recent findings have shown that SARS-CoV-2 can survive on human skin for about 9 hours — significantly longer than influenza A virus (IAV).3
Reference
van Doremalen N, Bushmaker T, Morris DH, et al. Aerosol and surface stability of SARS-CoV-2 as compared with SARS-CoV-1 [published online ahead of print, 2020 Mar 17]. N Engl J Med. 2020;NEJMc2004973. doi:10.1056/NEJMc2004973
Riddell, S., Goldie, S., Hill, A. et al. The effect of temperature on persistence of SARS-CoV-2 on common surfaces. Virol J 17, 145 (2020). doi:10.1186/s12985-020-01418-7
Hirose R, Ikegaya H, Naito Y, et al. Survival of Severe Acute Respiratory Syndrome Coronavirus 2 (SARS-CoV-2) and Influenza Virus on Human Skin: Importance of Hand Hygiene in Coronavirus Disease 2019 (COVID-19). Clinical Infectious Diseases, ciaa1517. doi: 10.1093/cid/ciaa1517