The Impact of COVID-19
2020 has been a year with several new normals due to COVID-19!
The key questions:
Is COVID-19 likely to go away soon?
Will there be another pandemic?
What did we learn from COVID-19 from a quality and data perspective?
The COVID-19 pandemic has impacted all clinicians across the United States and territories. However, CMS recognizes that not all practices have been impacted by COVID-19 to the same extent. Due to the current COVID-19 public health emergency, for the 2020 performance year, CMS will be using their "Extreme and Uncontrollable Circumstances" policy to allow clinicians and groups (both in-person and virtual) to submit an application requesting to re-weight one or more Merit-based Incentive Payment System (MIPS) performance categories. Additionally, CMS has introduced a new high-weighted COVID-19 clinical trials improvement activity which provides clinicians an opportunity to receive credit in MIPS for the important work they are already doing across the country. CMS believes this approach maintains a balance of encouraging participation in the Quality Payment Program, while still allowing those clinicians that are significantly impacted by the public health emergency to have relief from program participation through the extreme and uncontrollable circumstances policy.
CMS also continues to monitor the impact of the COVID-19 public health emergency on Shared Savings Program quality reporting for the 2020 performance year.
2020 Performance Year
Extreme and Uncontrollable Circumstances Application
The 2020 extreme and uncontrollable circumstances application is open through December 31, 2020, allowing clinicians, groups and virtual groups to request re-weighting of one or more MIPS performance categories to 0%. CMS is exploring similar flexibilities for APM Entities. Applications are reviewed on a case-by-case basis, and if approved, the performance categories included in the application are weighted at 0% and will not contribute to your final score, unless you submit MIPS data for the 2020 performance period. Data submission will void approved applications on a category-by-category basis. For example, if you submitted an application for reweighting in the Cost and Quality performance categories only, and are approved, these categories will be weighted at 0% and will not be scored for the 2020 performance period.
You will be scored in the Improvement Activities performance category regardless of whether you submit data.
You will be scored in the Promoting Interoperability performance categories, regardless of whether you submit data, unless you qualify for automatic reweighting due to clinician type or special status.
Quality will be reweighted to 0%, unless you submit quality data; if you submit quality data, you will be scored in this performance category.
Cost will retain a weight of 0% (There is no data submission associated with this performance category, so its reweighting cannot be voided).
New COVID-19 Clinical Trials Improvement Activity
To provide an opportunity for clinicians to receive credit in MIPS for the important work they are doing across the country, CMS has added the new high-weighted COVID-19 clinical trials (IA_ERP_3) improvement activity for the 2020 performance period. There are two ways MIPS eligible clinicians or groups can receive credit for this new improvement activity:
A clinician may participate in a COVID-19 clinical trial and have that data entered into a data platform for that study.
A clinician participating in the care of COVID-19 patients may submit clinical COVID-19 patient data to a clinical data registry for purposes of future study.
To support domestic or international humanitarian needs (IA_ERP_2) for the Improvement Activities performance category, clinicians could also pair the new COVID-19 clinical trials activity with the existing participation in a 60-day or greater effort. CMS intends for this improvement activity to be applicable to MIPS eligible clinicians that are reporting their COVID-19 related patient data to a clinical data repository, such as Oracle's COVID-19 Therapeutic Learning System and clinicians participating in clinical trials such as the COVID-19 clinical trials being conducted by the National Institutes of Health (NIH). Oracle has developed and donated a system to the U.S. government that allows clinicians and patients to record the effectiveness of promising COVID-19 drug therapies at no cost. (You can also refer to the 2020 MIPS Data Validation Criteria for additional examples of clinical data repositories and clinical trials.) The new improvement activity provides flexibility in the type of clinical trial, which could include designs ranging from the traditional double-blinded placebo-controlled trial to an adaptive design, or pragmatic design that flexes to workflow and clinical practice context. The goal is to support innovation and improve the collection of COVID-19 related data that clinicians have available to them and develop best practices that can drive improvements in patient care as clinicians monitor and manage the spread of COVID-19 in their practices. Encouraging clinicians to use an open source data collection tool will bring the results of their research to the forefront of healthcare much faster, leading to improvements in care delivery and most importantly the health of COVID-19 patients.
Impact of COVID-19 on ED Operations
When asked how COVID-19 has changed business operations, the vast majority of CEDR participants responded that business had changed at least somewhat, with 33% responding that things had changed significantly. The major changes came in due to reduced ED visit volumes These reductions significantly impacted revenue streams for many organizations.
Impact of COVID-19 on Registry Operations
COVID-19 has had a trickle-down effect on registry operations, from staffing, to the interoperability of data, and even to a patient's decision to have the ED visit/procedure that generates registry data.
There have been opportunities to collect data related to COVID-19 visits in the Emergency Department. ACEP's goal is to create a set of guiding recommendations for our members, policymakers, and the healthcare information and quality communities at large as we navigate the future of registry and the role of data analytics through COVID-19 and beyond. For the duration, ACEP Quality staff will focus on educating clinicians and practice administrators, including how to prevent negative adjustments and how to get started with CMS programs. Improved communication and education are key to overcoming the inevitable issues facing clinicians.
Now is the time for us to work collaboratively and create a Quality program that works for clinicians, regulators, and most of all, for patients. After all, registries are an investment in our patients. ACEP is your organization and dedicated to your success in skillfully navigating through complex quality reporting requirements. Stay safe during COVID-19. Until next time . . .
Author(s)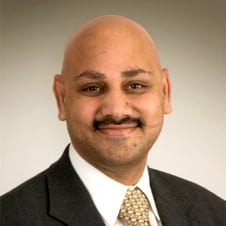 Dr. Pawan Goyal MD, FHIMSS, FAHIMA
ACEP Associate Executive Director, Quality