Special Editions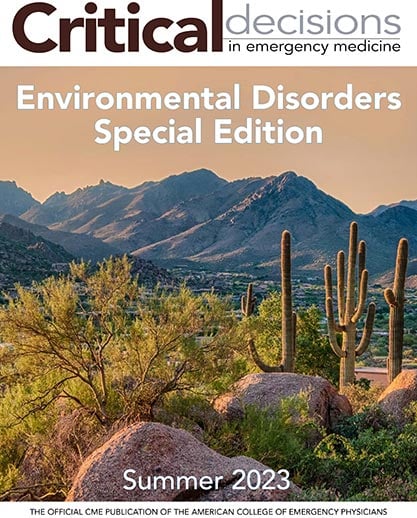 Environmental Disorders
Volume 37 • # 14
Earn 10 AMA PRA Category 1 Credits™
Lessons and features focused on wilderness medicine, heat-related illness, electric and lightning injuries, drowning and submersion injuries, hazardous chemical exposure, and mammalian bites. This issue also looks at procedures to fishhook and tick removal, cold gastric lavage, and eye irrigation, as well as toxicological information on shellfish poisoning, fish stings, cyclopeptide mushrooms, and tear gas exposure.
Pediatric Trauma
Vol. 37 • #13
Earn 12 AMA PRA Category 1 Credits™
Lessons and features focused on the ED evaluation and management of trauma cases in the pediatric population, including information about initial stabilization, cervical spine injuries, burns and inhalation injuries, blunt trauma in athletes, and return-to-play decisions. This issue also looks at nonaccidental trauma, when to have a high index of suspicion for it, and how to treat patients and ensure their safety.